The great actress had to come today to the first rehearsal for her first musical
One of the few unconquered by Tatyana Lolova stages is the one of the National Opera. This dream was on the way to come true. Today the great actress had to come to the first rehearsal for the first musical, in which she wanted to take part.
With a minute of silence began the first rehearsal of "My Father the Painter" at the National Opera.
The role of Brünnhilde the actress has accepted with desire and impatience.
PHOTOS OF OUR GREAT ACTRESS SEE HERE
"She was so pleased, she was so happy that at the end a dream of hers will come true. Because her dream in her young years, studying opera singing, was to become an opera singer. She had no patience to join the rehearsal process", tells Acad. Plamen Kartaloff.
Till her last breath, told us Maestro Plamen Kartaloff, the actress was rehearsing her role.
"She entered so deep into the accepted task and this is an example of aerobatics and perfection in the striving to be on the top in every role, that in her unconsciousness in the hospital she was repeating the lyrics from the spectacle", shared Acad. Kartaloff.
The great Tatyana Lolova passed away
The loss is also for every actor, who didn't succeed to make his or her dream come true to be on one stage with her.
"Unfortunately, we didn't see each other at all, we were only talking on the phone. I told her how happy I am that I will have the chance to work with her for the first time. And she told me the same. We are losing one really peerless artist", told Kalin Vrachanski.
And while some actors will not be able to get in touch with her talent, others have seen it personally – years in a row on one stage – this of the Satirical Theatre.
"She was a unique being on the stage. Terrific memory, terrific posture", shares Slavcho Peev. "Everything happens, one can start laughing on the stage by nothing, by one finger. And she could stop, she was the person, who was getting control of herself. She was so beautiful and humanly normal. And she loved us so much, and we loved her very much", shares Slavcho Peev further.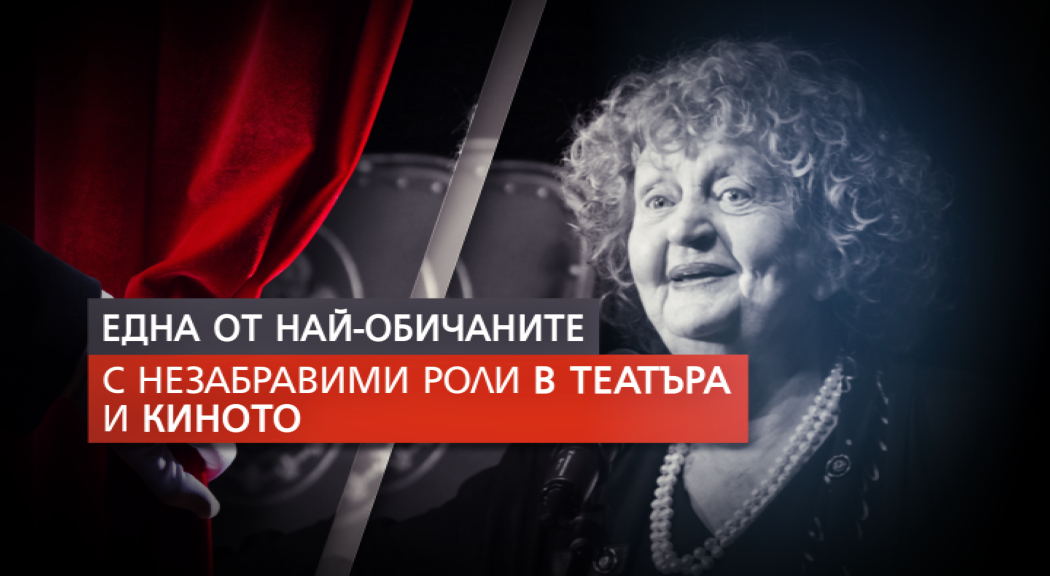 "
An exceptional woman! Such was also Stoyana. These are women, when you stand next to them, you start having another vibration, you feel the world in another way. Tanya managed to create around herself a halo of warmth, of tenderness, of power, of confidence", shares Kalin Sarmenov.
Bulgaria bids farewell to the Queen of Humour - Tatyana Lolova (VIDEO+PHOTOS)
The stage director of the performance "Duende", in which Lolova was playing for a long time, was also a mentor and a friend for her during the years.
"10 years, more than 10 years, this spectacle has been performed. This is the spectacle, with which maybe everybody will remember her in the theatre. She had to be, her talent had to shine in all directions. I think that she showed it, I think that she achieved and even surpassed what we were talking with her", shared Sani Saninski.
One of her more confidential persons – the journalist Yulia Piskuliyska, was constantly with her till her last hour.
"Everyone, who knew her, is not saying farewell to her, because this is a person, who simply doesn't go away. In this moment too, I see how we were having a walk with her in the Albena resort, in the Rose Garden, how we were taking pictures of the roses and she was always saying: "Why do you see the more beautiful ones?" No, Tanya, I am not seeing the more beautiful, it just happens so. Every small thing she was turning into some role", remembers Yulia Piskuliyska.
And for her contribution to art soon the actress had to be handed out the Honorary Ikar Award – a decision, which was taken by the Unity of Artists still in the beginning of this year.
"We shall revote this award posthumously – in her name", declared Hristo Mutafchiev.
In the name of the "Sun in the Bulgarian Theatre", as Hristo Mutafchiev calls her.
"She herself was saying about herself that she was like a sun. This was the most charging with positive energy bright beam in our guild, which we had … and it is gone", shares Hristo Mutafchiev.