Olya Al-Ahmed Author in Fakti.bg

The operas by Pietro Mascagni and Giacomo Puccini "Cavalleria rusticana" and "Gianni Schicchi" will be again on 28 and 30 October on the stage of the Sofia Opera. The spectators will be able to see Mascagni's famous opera with the special participation of Alexandrina Pendatchanska in the role of Santuzza.

"Cavalleria rusticana"
was the first opera Mascagni wrote, although "Pinotta", the only premiere of which took place in 1932, was written earlier, and remains the best known of his 16 operas. Apart from "Cavalleria rusticana", only "Iris" and "L'amico Fritz" remain in the traditional repertoire. Its success was phenomenal from its first performance at Rome's Teatro Constanzi on 17 May 1890, and continues to this day. In fact, by the time of Mascagni's death in 1945, the opera had been performed over 14,000 times – and that was in Italy alone. The action takes place in a Sicilian village in 1880.

"Gianni Schicchi"
is a one-act opera by Giacomo Puccini. Libretto – Giovacchino Forzano. First performed – New York, 14 December 1918, on the same evening as Puccini's two one-act operas "Il tabarro" (The Cloak) and "Suor Angelica" (Sister Angelica), forming a triptych.

The plot is based on lines from Canto XXX of "Inferno" (Dante's "Divine Comedy"), dedicated to the adventurer and swindler Gianni Schicchi, punished for his sins.

"Gianni Schicchi is a black comedy, Puccini's only opera of this type, a brilliant example of a modern opera-buffa, based on the tradition of Verdi's "Falstaff". The expressive recitative, the gushing melodicism, the sharp character, the rapid tempo distinguish the music of the opera.

Who is Alexandrina Pendatchanska?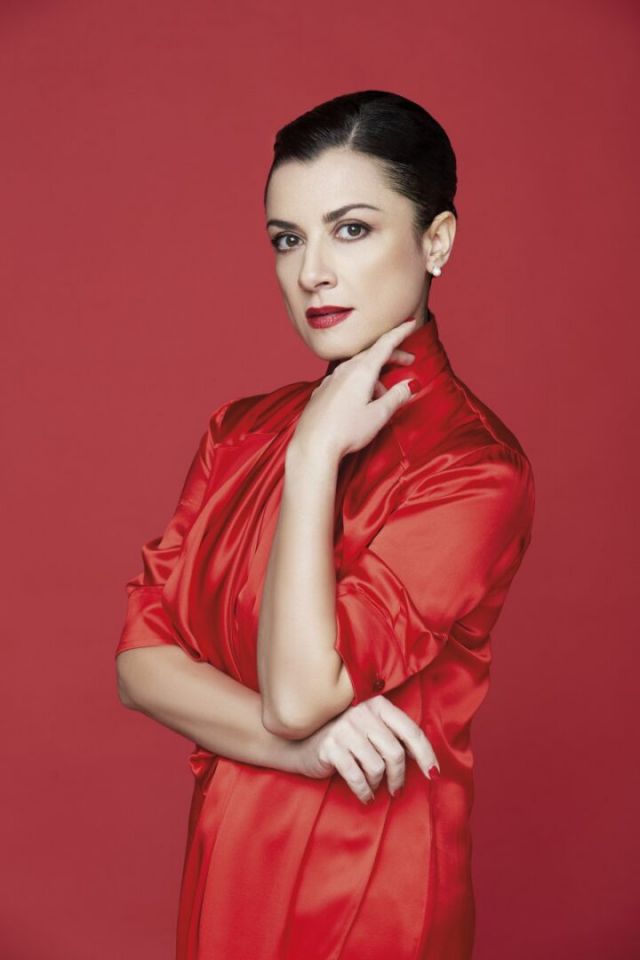 Pendatchanska was born in Sofia in a family of famous Bulgarian musicians. She started playing the piano at the age of 5 and graduated from the National School of Music with piano and singing. Her vocal teacher is her mother – the internationally acclaimed soprano Valerie Popova.
Pendatchanska made her debut at 17, and at age of 19 she won the "Antonin Dvořák" Competition, the International Vocal Competition in Bilbao and the South African University UNISA Singing competition in Pretoria. She was 19 when she made her debut as Lucia di Lammermoor in Bilbao. After that she was The Queen of the Night (Cape Town), Ophelia (Monte Carlo, Vienna), Lucia (Turin, Trieste), Gilda (Welsh National Opera, Monte Carlo), followed by La Traviata (Trieste, Hamburg, Frankfurt), Esclarmonde (Turin), Parisina (Wexford, Lugano Italian Swiss Radio).
During the 1997-2009 seasons Pendaтchanska appeared as Elisabetta in Roberto Devereux (Turin, Naples), Hermione (Santa Fe), Donna Anna (Lausanne, Houston, Lisbon, Prague), Adina (Pesaro), Donna Elvira (Washington), The Stranger (Catania), Vitellia (Santa Fe), Suor Angelica (Lucca), Verdi's Luisa Miller and Lucrezia Contarini from I due Foscari (Naples), Rossini's Semiramide at the Théâtre des Champs-Elysées in Paris, Hermione and the La donna del lago in New York, Madama Cortese (Il viaggio a Reims) at Brussels La Monnaie, Fiorilla (Il turco in Italia) at Munich Baerische Staatsoper and Berlin Staatsoper Unter den Linden, Verdi's Luisa Miller at Deutsche Oper Berlin, as well as Mozart's Donna Elvira (Don Giovanni) at the Theatre des Champs-Elysées, Paris, Opéra National de Lyon, Baden-Baden, Vitellia (La clemenza di Tito) at Teatro Real de Madrid, Copenhagen and Opéra National de Lyon, and Elettra (Indomeneo) at Bruxelles La Monnaie.
Since 2003, Pendatchanska has collaborated actively with René Jacobs both on the opera stage and on the concert podium. On European tours with the Freiburg Baroque Orchestra conducted by René Jacobs, she sang Vitellia (La clemenza di Tito), Don Elvira (Don Giovanni), Elettra (Indomeneo), and Fiordiligi (Cosi fan tutte), Arminda (La finta giardiniera), Alcina (Orlando Paladino) at the Palais des Beaux-Arts in Brussels, the Cologne Philharmonie, the Theatre des Champs-Elysées in Paris, the Berlin Konzerthaus, the Paris Salle Pleyel, the Edinburgh International Festival, the Teatro Real de Madrid, etc.
These successful tours have been followed by internationally acclaimed recordings for Harmonia Mundi. La clemenza di Tito (2006) won two Grammy nominations for Best Classical Album and Best Opera Recording, Don Giovanni (2007) was Gramophone Editor's Choice, Indomeneo (2009) – Opera Magazine's Diamond of the Year, Agrippina (2011) – the BBC Music Awards 2012 Opera Award winner.
Alexandrina Pendatchanska's discography also includes Glinka's Ivan Susanin (Antonida) for Sony, Rachmaninov's Bells for Decca, Donizetti's Parisina for Dynamics, Sartorio's Julius Caesar for ORF – Diapason Découverte, Terradellas' Sesostris for RCOC Records – Gramophone Editor's Choice, and two aria recitals.
Her performances of Elisabetta (Roberto Devereux), Lucrezia Contarini (I due Foscari), Donna Elvira (Don Giovanni), and Alcina (Orlando Paladino) in Petite messe solennelle are available on DVD.
Alexandrina Pendatchanska's oratorio repertoire includes Verdi's Requiem, Rossini's Stabat Mater, Petite messe solennelle, Honegger's Le Roi David, among others, which she has performed with orchestras such as the Gewandhaus Leipzig, The Israel Philharmonic Orchestra, Philadelphia Orchestra, L'Orchestra del Maggio Musicale Fiorentino, L'Orchestra dell'Academia Nazionale di Santa Cecilia, Orchestra Sinfonica Nazionale della RAI, Russia's National Orchestra. Ms Pendatchanska also collaborates with some first-class instrumental ensembles such as the Freiburg Baroque Orchestra, Akademie für Alte Musik, Concerto Köln, Ensemble Matheus, Complesso Barocco.

She has collaborated with conductors such as Riccardo Chailly, Myun-Wyun Chung, Charles Dutoit, Adam Fischer, Eliahu Inbal, Jesus Lopez-Cobos, Nello Santi, Bruno Bartoletti, Carlo Rizzi, Maurizio Benini, Ivor Bolton, Daniel Oren, Vladimir Spivakov, René Jacobs, Vladimir Jurowski.
Highlights from the last season include Maria Stewart (Elisabetta) – Toronto and Munich, Agrippina – Berlin Staatsoper, La finta giardiniera (Arminda) – Theater an der Wien, Pagliacci (Nedda) – Wiener Staatsoper, Les vêpres siciliennes (Hélène) – Napoli San Carlo, Ruslan and Ludmilla (Gorislava) – Bolshoi Theater, Moscow, Telemachus (Circe) – Theater an der Wien.
Since May 2012, Aleksandrina Pendatchanska uses the artistic pseudonym Alex Penda.
Some of her future engagements include Salome at the St. Gallen Theatre, Petite Messe Solennelle – Bad Kissingen, recording of Semiramide for Naxos, Maria Stuarda (Elisabetta) – Washington and Moscow, La finta giardiniera (Arminda) – Berlin Staatsoper, Vitellia – Bruxelles La Monnaie, Donna Elvira – Baden Baden.

https://fakti.bg/kultura-art/724465-selska-chest-i-djani-skiki-otnovo-na-scenata-na-sofiiskata-opera