THE MESSAGES OF THE OPERA "PRINCE IGOR" TO OUR TIME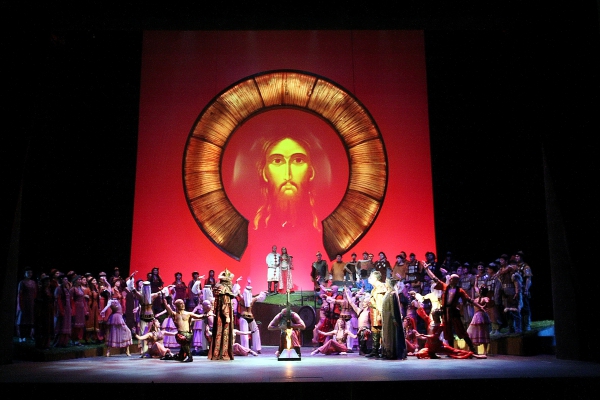 After the exciting production of "Eugene Onegin" by P. I. Tchaikovsky, the Sofia Opera and Ballet offers to its audience one more title from the Russian opera classic – the opera "Prince Igor" by Alexander Borodin. A title in which the Bulgarian opera legends like Boris Christoff, Nicola Ghiuselev, Nicolai Ghiaurov and other singers from the different generations have left the Bulgarian trace in the history of the world opera theatre after the great Feodor Chaliapin, who has a great contribution for the popularity of this opera.
The music of this historical opus displays itself in large-scale epic scenes, contrasting to the lyrical ones in which comes to life the beauty of the Russian folk song, mixed with the oriental melodies, the lyrical and at some places the comical, create a live music organism which moves us up to this day.
This historical opera which opens the curtain for the distant times and events from 1185, comes to life in Plamen Kartaloff's director's interpretation as a narrative close to our time. One story in which in the historical plot are interweaved human destinies, when two characters from different confessions, as are Ovlur, the converted Polovtsian, and Prince Igor, the Christian, are the key in the denouement of the drama.
One story which speaks in an especially actual way to our time, a time of collision of the different confessions and the otherness, a time looking for understanding and its unity in the diversity.
This different from the known production of the opera "Prince Igor" by Alexander Borodin is a provocation also for the artists who develop characters, close to the sense of the contemporary in a moving and provoking reflections way. The known to the audience excellent soloists of the Sofia Opera and Ballet will create the high degree of the experiences of the spectacle.
These are Veselin Mihaylov, Gabriela Georgieva, Hrisimir Damyanov, Plamen Dimitrov, Angel Hristov, Tsveta Sarambelieva, Rosen Nenchev, Dimitar Stanchev, Angel Antonov, Vetka Petkova, Silvana Pravcheva.
The conductor Pavel Klinichev, conductor of the Bolshoi Theatre, who we already know, will be again on our stage in this exciting production of the opera "Prince Igor" by Alexander Borodin.