"Carmen" by Bizet on 11 May on the stage of the Sofia Opera and Ballet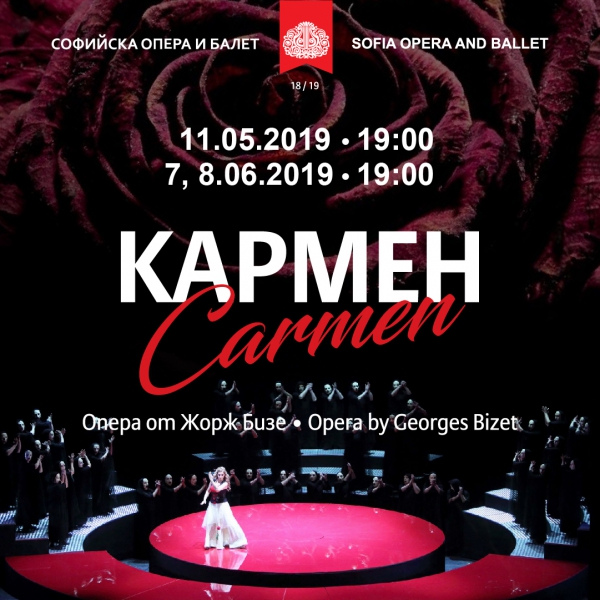 The Sofia Opera and Ballet will present on 11 May at 19:00 h Plamen Kartaloff's production "Carmen", with which our first opera theatre won the ovations at its last tour in Japan last year.

The stage director Plamen Kartaloff, after his own words, offers an independent conceptual look into the style of mixed principles of modern times and traditions from the ancient Greek theatre and the ancient Japanese Noh theatre. The stage is cleared of props, freed from deciphering of the genre according to classical categories. Domineering place has the concentration on the destiny of the main personages, put in the central circle as their main arena of fatality. And the space around the arena is the place for the spectators, for their acting, behaviour and reactions of a simultaneously observing, commenting and acting Chorus.

Carmen is a tragedy of the personality. This is why in the spectacle it is a centrum – as a mundane person, limited by Fate. Love and freedom for her are more important than life. She herself becomes their victim, fighting against the predestination, which has marked her. With the freedom of her spirit, dependent on anyone, she takes a decision about her life. Her pride is punished, also because she is constantly looking for a change with audacity and challenge. But human life is in the hands of Fate, commented Kartaloff. After his words, Carmen is a reflection of a tragical guilt, close in fate to female characters and personages from the classical masterpieces of Greek tragedy.

In the role of Carmen the audience of the spectacle will see the mezzo-soprano Violeta Rdomirska. She graduated from the Academy of Music in Sofia and studied singing with Alexandrina Miltcheva. Two years later, she performed on the stage of the Sofia Opera her first significant role in "Il barbiere di Siviglia". Since 1999, she has been living and working in Switzerland (Zurich).

In "Carmen" on 11 May take part also:

Daniel Damyanov, Veselin Mihaylov, Ilia Iliev, Hrisimir Damyanov, Dimitar Stanchev, Atanas Mladenov, Radostina Nikolaeva, Silvana Pravcheva, Tsvetelina Kotseva

Conductor ZHORZH DIMITROV
Stage Director PLAMEN KARTALOFF

Duration of the spectacle: 3 hours, with one interval.


The tickets are in sale at the Ticket box of the Opera at 1, Vrabcha Str., as well as at the ticket offices of EasyPay in the whole country, in the net of eventim.bg and on the Opera's website: operasofia.bg