ABOUT VERDI'S "REQUIEM" ON 25 APRIL AT THE SOFIA OPERA AND BALLET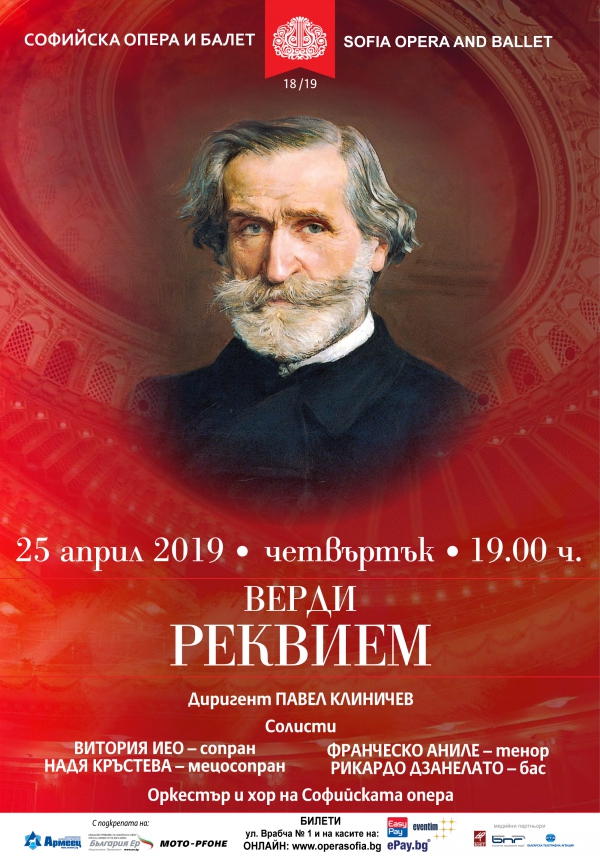 Days before the coming of the greatest Christian Eastern holidays, the Sofia Opera and Ballet invites on 25 April 2019 its admirers, in order to get in touch with Giuseppe Verdi's music in one of his most often performed up to this day works "Requiem". This music enters into the heart's depths and moves the human soul. The soloists Vittoria Yeo, Nadia Krasteva, Francesco Anile, Riccardo Zanelatto, together with the chorus and the orchestra of the Sofia Opera, conducted by Pavel Klinichev, will make the audience witness the emotions of the composer, who created his work after a series of tragical losses. This is a homage to the memory of two important figures, who exerted an essential influence on his work – the great Italian composer Gioachino Rossini and the celebrated writer Alessandro Manzoni. "Requiem" is a work, which reflects the composer's personal experiences, but in which he reproduces one of the most important religious scenes – the Day of Judgement.
"Requiem" was written by Verdi in April 1874, and its first performance was on 22 May the same year in the San Marco Cathedral in Milan. Conductor was Giuseppe Verdi himself. Later again with the participation of the author the work was performed with great success also at La scala di Milano, in Paris, London, Vienna, Munich, St. Petersburg.
In spite of this the attitude to "Requiem" remains contradictory. Although the work doesn't escape totally from the religious nature of the funeral mass, in it are implanted the marks of an operatic work.
The Sofia audience will have the chance to touch itself to Verdi's music and his "Requiem" on 25 April at 19 h. The tickets are already in sale at the Ticket Box of the Opera at 1, Vrabcha Str., as well as at the ticket offices of EasyPay in the whole country, in the net of eventim.bg and in Internet at: operasofia.bg.