Raina Kabaivanska in Bulgaria for the premiere of "Il trovatore" at the Sofia Opera and Ballet – kulturni-novini.info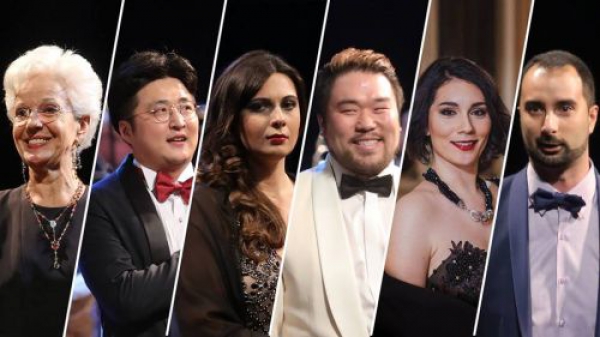 "Il trovatore" with students of Raina Kabaivanska from the master classes at New Bulgarian University
Raina Kabaivanska will arrive in Bulgaria, in order to be with her students from the master classes at New Bulgarian University, at their participation in the premiere of "Il trovatore" by Giuseppe Verdi at the Sofia Opera and Ballet on 24 February at 16 h.
Marily Santoro (soprano, Italy), Ana Victória Pitts (mezzo-soprano, Argentina), Carlo Seo (baritone, Korea), Davide Riu (tenor, Korea) and Kostadin Mechkov (bass, Bulgaria) are among the chosen few by Raina Kabaivanska for the lead roles in the spectacle. The invitation to the young singers came from the Director of the Sofia Opera and Ballet Acad. Plamen Kartaloff.
Marily Santoro, Davide Riu and Kostadin Mechkov are favourites of the Bulgarian audience from their participation in the main roles in "Turandot" (2016) and "Norma" (2017), joint projects of New Bulgarian University and the Sofia Opera. Carlo Seo debuted on Bulgaria's first opera stage a month ago as Dr. Malatesta in "Don Pasquale". For Ana Victória Pitts Azucena in "Il trovatore" will be her first presentation in her teacher's motherland.
Raina Kabaivanska's support of her students has different dimensions. The scholarships, awarded by the charity fund of the opera singer at New Bulgarian University, founded years ago with her personal means, subsequently having attracted donations from the America for Bulgaria Foundation, Sofia Municipality and "Fantastico", as well as the project "Raina Kabaivanska presents her students on the international opera stage" under the aegis of New Bulgarian University, which realized "La bohème" (2010-2012), "Werther" (2012), "Turandot" (2016) and "Norma" (2017) are wide-known. Thanks to them the Bulgarian audience had the chance to see in the beginning of their career singers from Kabaivanska's school, today world stars, like Maria Agresta, Veronica Simeoni, Andrea Carè. But most important is the support, which Kabaivanska gives them with her personal presence, as a figure with historical significance in the world of opera, in key moments of their professional path. This way "Il trovatore" in Sofia takes its place among other two "moments", in which Raina Kabaivanska will stand by her students – debut of Maria Agresta as Anna Bolena in Donizetti's opera of the same name at Teatro dell'Opera di Roma and debut of Veronica Simeoni at Covent Garden as Preziosilla from Verdi's "La forza del destino".
"Il trovatore" has its high place in Raina Kabaivanska's exceptional singing career. Sublime was the spectacle from 1 May 1978 at Wiener Staatsoper with the participation of Placido Domingo, as well as of Fiorenza Cossotto, Piero Cappuccilli, José van Dam. Conductor was Herbert von Karajan. In 1986, the Austrian Television broadcasted a recording and the great Maestro sent a letter to Kabaivanska: "Dear Raina, the Austrian Television broadcasted last night our "Il trovatore" from the Vienna Opera. I am very moved and happy with its artistic value and I am fascinated, like on the day of the spectacle. Your interpretation, from vocal, as well as from dramatic point of view, will always remain a model for artistic perfectionism. It is good to acknowledge that the real power of the actions and of the directing in the opera is in their simplicity. I embrace you with all my heart, yours Herbert von Karajan."
Следващият гост от Школата Кабаиванска на сцената на the Sofia Opera and Ballet ще бъде корейското сопрано Витория Йео. От 2016 тя е сoлист на оперните театри във Венеция, Генуа, Парма, Рим,Флоренция и др. През 2015 ("Ернани") и 2017 ("Аида") участва в оперния фестивал в Залцбург под диригентството на Рикардо Мути. През 2018 дебютира на Арена ди Верона като Лиу в "Турандот". На 25 април 2019 в София Йео ще изпълни сопрановата партия в Реквием от Джузепе Верди.

Autor: New Bulgarian University

19.02.2019