The next opera festival in succession in Bulgaria will be founded, this time in Melnik - Newspaper "24 chasa"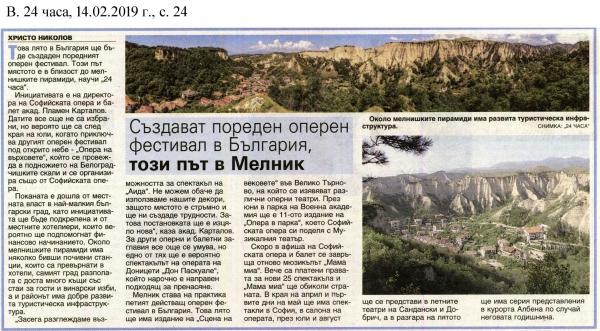 This summer in Bulgaria will be founded the next opera festival in succession. This time the place is in proximity of the Melnik Pyramids, learned Newspaper "24 chasa".
The initiative is of the Director of the Sofia Opera and Ballet Acad. Plamen Kartaloff. The dates are still not chosen, but probably they will be after the end of July, when will finish the other opera festival in the open air – Opera of the Peaks, who is held at the foot of the Belogradchik Rocks and is also organized by the Sofia Opera.
The invitation came from the local authorities of the smallest Bulgarian town and the initiative will be supported by the local hotel-keepers, who probably will give financial support to the undertaking. Around the Melnik Pyramids there are several holiday homes, turned into hotels, the town itself disposes over quite a lot of houses with rooms for guests and wine cellars, and the region itself has a well-developed touristic infrastructure.
"For the present, we consider the possibility for a spectacle of "Aida". However, we cannot use our sets, because the place is steep and this will bring us difficulties. This is why the production will be entirely new", said Acad. Kartaloff. On other opera and ballet titles we are still pondering, but one of them will probably be the spectacle of Donizetti's opera "Don Pasquale", which on purpose was made suitable for transportation.
Melnik in practice will become the fifth active opera festival in Bulgaria. This summer there will be an edition of "Stage of the Ages" in Veliko Tarnovo, at which appear different opera theatres. In June, in the park of the Military Academy, will take place the 11th edition of "Opera in the Park", which the Sofia Opera will share with the Music Theatre.
Soon on the playbill of the Sofia Opera and Ballet will come back again the musical "Mamma mia!". Already are paid the copy rights for new 25 spectacles and "Mamma mia!" will tour the country. In the end of April and in the first days of May, will take place spectacles in Sofia, in the hall of the Opera, in July and August it will be presented in the summer theatres of Sandanski and Dobrich, and at the height of the summer there will be a series of performances in the Albena Resort on the occasion of its anniversary.

HRISTO NIKOLOV

Newspaper "24 chasa", 14.02.2019, page 24