Acad. Plamen Kartaloff: My "Phantom of the Opera" is a striving towards great art, perfection of the talent – Lyudmila Zhelezova, Bulgarian National Radio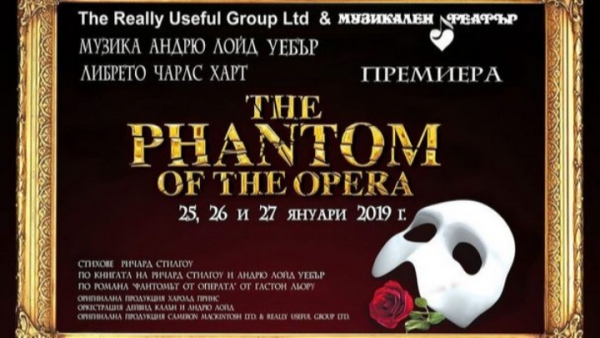 Acad. Plamen Kartaloff: My "Phantom of the Opera" is a striving towards great art, perfection of the talent – Lyudmila Zhelezova, Bulgarian National Radio
This Friday at the Music Theatre in Sofia is upcoming the already sold out premiere of "The Phantom of the Opera". The first Bulgarian production of Andrew Lloyd Webber's classic is a work of the Director of the Sofia Opera Acad. Plamen Kartaloff.
For "Horizont" Kartaloff told that he was uncompromising in his requirement the Bulgarian artists to interpret impeccably the psychological duality of the characters, set by Webber.
After his words, Veselka Velcheva, as Christine, and Vlado Mihaylov, as the Phantom, are worthy Bulgarian performers of the main roles in the musical.
Kartaloff greeted also the rest of the team and added about the spectacle:
"The performers are captive of pop and rock music, with opera dramaturgy. The fascination in a libretto, which gives a real attractiveness in the development of the characters, together with the genial music, will satisfy not only one serious, but also one young audience."
"In this plot the dream and the reality come true, elated by noble love and spiritual beauty. Two characters, connected in their souls, ready for everything, in order to be together forever. A mystery world of a happy dreaming, which remains. The Angel of Music can visit each one of the spectators and the dream can turn into reality, especially for the young people", declared Kartaloff, who is exceptionally content with the joint work of the Opera and the Music Theatre on this and on other spectacles.
"My "Phantom of the Opera" is a real metaphor, in which the Beast is looking for his Beauty, in order to free her of the mediocrity and the mimicry, which often win in our life. A striving towards great art, to perfection of the talent. A mirror of a fragile union of two souls. This awakening out of strong attachment is a message to the contemporary spectator", said Academician Plamen Kartaloff.
Аудио: Interview with Acad. Plamen Kartaloff (Lyudmila Zhelezova, Bulgarian National Radio )