Plamen Kartaloff's production of "Mamma mia!" with 25 spectacles in front of 20 000 spectators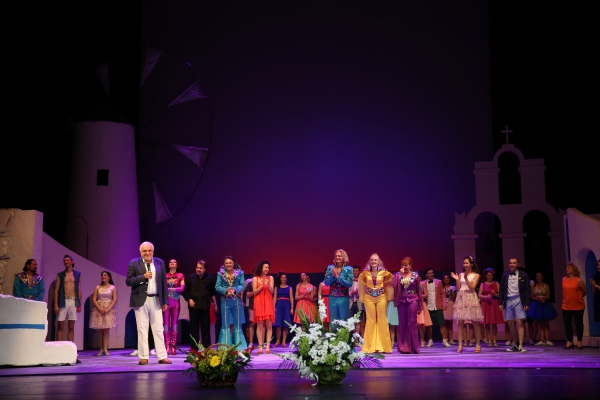 The classical musical "Mamma mia!" of the stage director Plamen Kartaloff will be performed for the 25th jubilee time on the stage of the Sofia Opera and Ballet on 16 December (Sunday) at 11:00 h. The spectacle was seen also on the stage in front of the Belogradchik Rocks during the Opera of the Peaks Festival in summer 2018. The total number of spectators, who have visited the spectacle, is 20 000.
Usually Benny Andersson and Björn Ulvaeus' musical is being staged over the world as an answer to the famous London production from 1999, which was transferred later also to Broadway. The Sofia Opera and Ballet owns a full license for the production of the work, so that the stage director had the creative freedom to make his own reading of the well-known musical. Plamen Kartaloff transformed all ABBA's songs into a theatre of situations and scenes, in which the audience would not stay as at a pop concert, but would actively participate in the action. Jurij Franko, director of the Slovenian producer company PROSPOT d.o.o. Radovljica shared for the Bulgarian media: "The co-production with the Sofia Opera is our sixth and newest production of "Mamma mia!". It is the most unusual (because of the fact that it is a joint venture with the National Opera) and the most developed in dramatic aspect so far. I would like to express my praise to Plamen Kartaloff and to the whole team of the Sofia Opera, who managed to stage the musical for exceptionally short time – a proof for the enormous experience, professionalism and efficiency of the organization. With the combination of the music and ABBA's songs, performed in Bulgarian, and the extravagant set design and dramatism, which Academician Kartaloff emphasizes so well, "Mamma mia!" at the Sofia Opera went beyond all expectations and excelled productions, seen on Broadway and West End."
After each spectacle of the musical the audience was always falling into a frenetic enthusiasm, it was singing together with the actors and when they finally returned behind the curtain, exclamations were heard: "More!", "More!". The artists Vesela Delcheva, Lucy Kozareva, Edelina Kaneva, Denitsa Shopova, Orlin Goranov, Niki Sotirov, Vlado Mihaylov, Nikolay Pavlov and the entire cast received and receive the well-deserved love of the audience.
Spectators shared the following:
"I was at the production on Broadway, but I liked yours much more!"
"I have never seen such a show in Bulgaria!"
"We haven't seen such a thing in England!"
"Revolutionary!"
The wish of the creators of "Mamma mia!" on the stage of the Sofia Opera is: "Delight yourselves, laugh, dance and sing with us!"
Good luck to the jubilee 25th spectacle of the famous musical!
Pictures by: Светослав Николов