"Simon Boccanegra" by Verdi, with an international team, will have Its premiere at the Sofia Opera on 17 November – Penka Momchilova, Bulgarian Telegraph Agency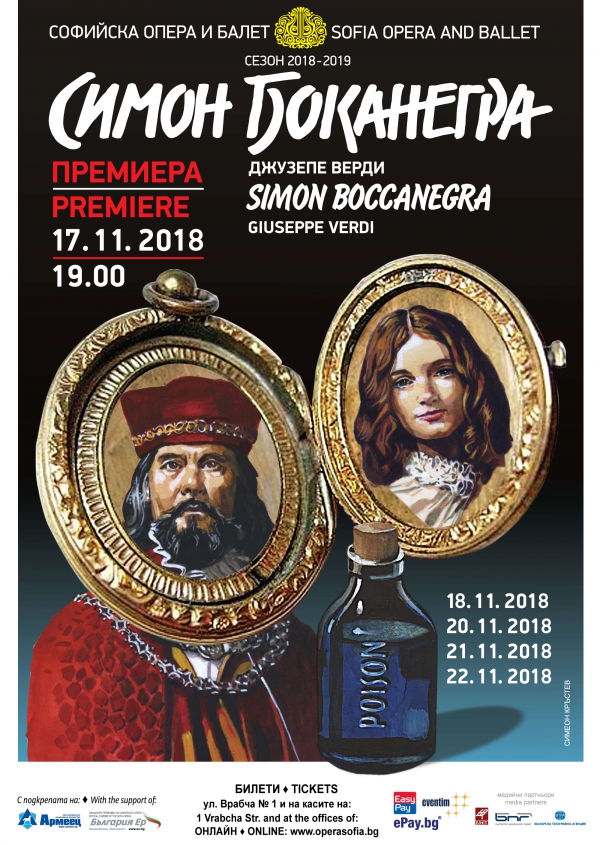 The opera "Simon Boccanegra" by Verdi, with an international team, will have its premiere at the Sofia Opera and Ballet on 17 November. The next performances will be on 18, 20, 21 and 22 November, informed us from the theatre.
Stage Director is Arabela Tănase, Artistic Director of the Opera of Craiova, Romania. The music critique defines her spectacles as a skilful combination between artistic vision and balanced merger of emotion and reason, sensibility and abstract. Since 2000, she has staged "La traviata", "Lucia di Lammermoor", "La bohème". "Il barbiere di Siviglia", "Don Giovanni", "Turandot" and many others.
Conductors of "Simon Boccanegra" are Erich Wächter and Zhorzh Dimitrov, designer – Răsvan Drăgănescu.
Among the soloists are Veselin Mihaylov, Nikola Miajlovic, Kiril Manolov, Lilia Kehayova, Radostina Nikolaeva, Tsvetana Bandalovska, Martin Tsonev, Nikolay Voynov, Svetozar Rangelov, Daniel Damyanov, Daniel Ostretsov, Emil Pavlov, Rafael Alvarez.
"Simon Boccanegra" – one of the interesting opuses in the world opera repertoire, experienced failure at its premiere in 1857, but several years later absolutely deserved it won the recognition of the audience and the specialists.
Verdi wrote the opera to the libretto by Francesco Maria Piave, and later revised the initial version together with the librettist Arrigo Boito, with whom he created also others of his most popular works.
"Simon Boccanegra" is a story about reconciliation, love, hatred, political scandals. The action takes place in Italy in the 14th century. Main characters are two men, who later became death enemies because of the love between the courageous corsair and future Doge of Genoa – Simon Boccanegra, and Maria, the daughter of the nobleman Jacopo Fiesco, who was against their love affair. Their difficult relationship, in which there are also political contradictions, sharpen even more by the appearance of the illegitimate child of Simon and Maria – Amelia. A quarter of a century later, she is the only woman, able to solve the conflict between her father and grandfather.
Tickets are available at the Ticket Box of the Sofia Opera and Ballet, at the ticket offices of EasyPay in Bulgaria, in internet on operasofia.bg and in the network of eventim.bg.
/Penka Momchilova, Bulgarian Telegraph Agency/