Vera Petrova about her production of "Eugene Onegin"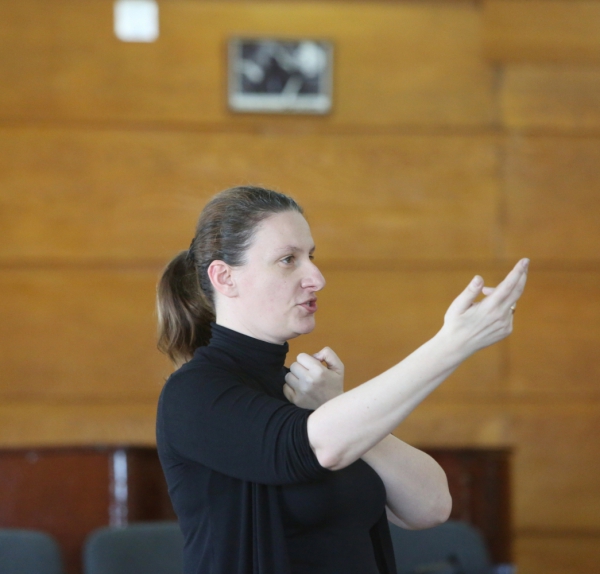 My concept was based on the idea that life is a dream, which flows through our fingers. This is why one should not put barriers in front of oneself and dig oneself in them, but pay attention to one's inner world. We are not born to creep, but to fly on the wings of our impulses and innermost desires.
With this staging of "Eugene Onegin" I would like to make the audience immerse itself in one beautiful utopia, which has nothing to do with the pragmatical time of today. A time, in which the soul trips breathless after the people and cannot catch up with them.
On the stage Eugene Onegin experiences a retrospective, analytical dream, in which he makes an analysis of his whole life. Both central characters move in two parallel worlds, which don't manage to cross themselves with each other. A key moment in my conception is the conflict between the characters and the social status quo.
We have to find in ourselves the barriers, which hinder us to realize true love and to destroy them. And Eugene Onegin, and Tatyana don't succeed to remove the barriers in their lives. The lovers don't meet anywhere, although they are in each other during the whole time. This is why I am underlying that delusions are for those, who love with their eyes. For those, who love with the soul, there is no parting.
I am constructing the opera in the spirit of the lyrical romantics, in which the collision man-social status quo leads to dramatism and tragedy. In our wish to present ourselves according to the requirements of society, we violate ourselves. Beyond our idea of right and wrong actions there is one field. About it the ancient thinkers said that when the soul lies in the grass of this field, the world is too full, in order to talk about it.
In all this parallel universe – the one of Tatyana, the other of Onegin, Lensky and Olga fit in a specific way. Lensky is the mirror of Onegin, before vitiating his own soul. Lensky is exactly this mirror idealistic psychology, which actually Onegin hides deep in himself. And Lensky's murder is interpreted as a suicide of Onegin's own soul.
Tatyana, like Lensky, starts in life with the light of her soul. Her dreams for love and happiness are cruelly cooled down by the cynic Onegin. The strange is that at the final the roles of both exchange. Eugene becomes a lyrical romantic, and his beloved woman – a cynic. Tatyana is maybe still in love with him, but she highly values her status quo and her husband Gremin. This is not her revenge, on the contrary. Now she puts barriers in front of herself and chains her feelings to the heartless and hypocritic society.
Gremin for me is a highly moral personality. His ethic norms and intellectual charge are as if effacing his connection with the cold and merciless society, to which he belongs. The character is clear about life and this is why his image is attractive, although it evokes slight sadness.
Tchaikovsky wanted the cast of the opera "Eugene Onegin" to be entirely of young people. This is why we all, who made come true the new production of "Eugene Onegin", kept to the composer's initial wish. When Pushkin finished his novel, Eugene Onegin was at the age of 26. And when this story began, Tatyana was 18 years old. Both characters are the fruit of Pushkin's soul world, which is boundless and inaccessible. The scales of his emotional amplitudes have nothing to do with our time, in which lacks the depth of feelings and the depth of emotions.
In the consciousness of the contemporary people Pushkin's and Tchaikovsky's philosophical ocean is far away from them. I am convinced that the young artists, with their art will make us close to the views of both geniuses and will teach us how to conform with our souls.
Pictures by: Светослав Николов