Newspaper "Zemya" - Krassimira Stoyanova and Kamen Chanev will sing in Verdi's "Requiem"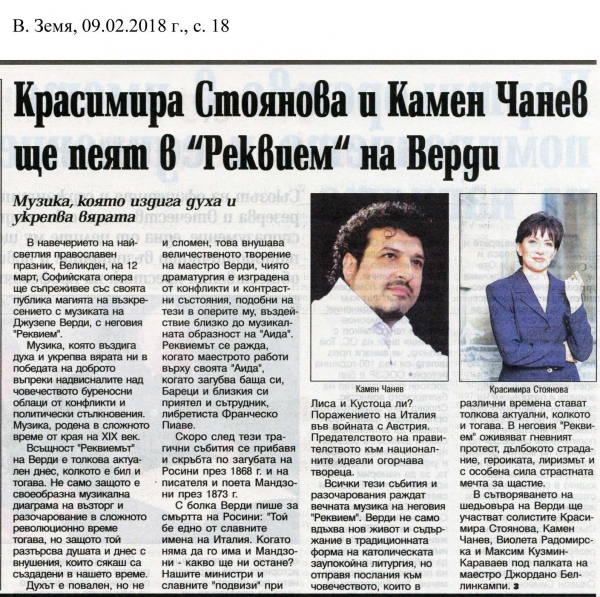 Music, which elevates the spirit and strengthens the faith
In the eve of the brightest Orthodox Holiday, Eastern, on 12 March, the Sofia Opera will witness with its audience the magic of resurrection with Giuseppe Verdi's music with his "Requiem".
Music, which elevates the spirit and strengthens our faith in the victory of good in spite of the hanging over the mankind thunder-clouds of conflicts and political collisions. Music, born in the complex time from the end of the XIX century.
Actually Verdi's "Requiem" is so topical today, as it was at that time. Not only because it is an original music diagram of rapture and disappointment in the complex revolutionary epoch at that time, but because it is shaking the soul also today with suggestions, which are as if created in our time.
The spirit is put down, but it is not broken – this suggests the majestic work by Maestro Verdi, the dramaturgy of which is constructed from conflicts and contrast states, similar to those in his operas, a suggestion close to the musical figurativeness of "Aida". The Requiem was born, when the Maestro was working on his "Aida", when he lost his father, Barezzi and his close friend and collaborator, the librettist Francesco Piave.
Soon after these events was added also the sorrow from the loss of Rossini in 1868 and of the novelist and poet Manzoni in 1873.
With pain Verdi wrote about Rossini's death: "He was one of the glorious names of Italy. When Manzoni will also not be there – what will be left for us? Our ministers and the glorious "feats" by Lissa and Custoza?"
The defeat of Italy in the war with Austria. The betrayal of the government to the national ideals grieved the composer.
All these events and disappointments gave birth to the eternal music of his "Requiem". Verdi not only inspired new life and contents in the traditional form of the catholic requiem, but also sent messages to mankind, which in different times become so topical, as they were at that time. In his "Requiem" come to life the angry protest, the deep suffering, the heroism, the lyrism and with special power the passionate dream of happiness.
In the cocreation of Verdi's masterpiece will take part the soloists: Krassimira Stoyanova, Kamen Chanev, Violeta Radomirska and Maxim Kuzmin-Karavaev under the baton of Maestro Giordano Bellincampi.