Newspaper "Zemya" - The coming back of "Lakmé" on Sofia stage – one opera masterpiece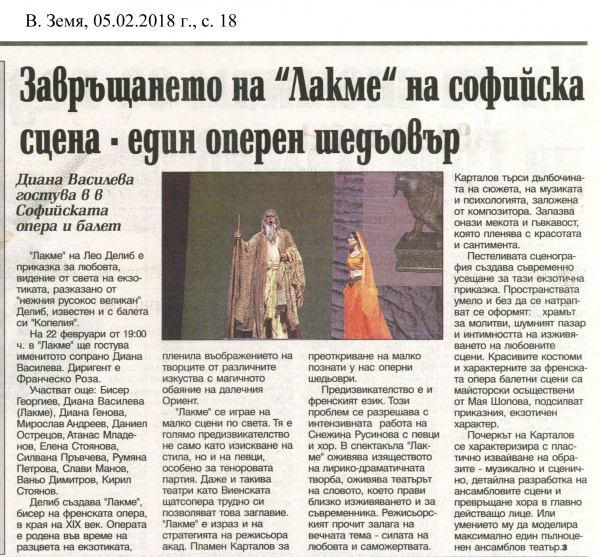 Diana Vasileva will be guest-performer at the Sofia Opera and Ballet
"Lakmé" by Léo Delibes is a fairy-tale about love, a vision from the world of exotics, told by the "gentle blond giant" Delibes, known also with his ballet "Coppélia".
On 22 February at 19 h. in "Lakmé" guest-performer will be the eminent soprano Diana Vasileva. Conductor is Francesco Rosa.
Participants are also: Biser Georgiev, Diana Genova, Miroslav Andreev, Daniel Ostretsov, Atanas Mladenov, Elena Stoyanova, Silvana Pravcheva, Rumyana Petrova, Slavi Manov, Vanyo Dimitrov, Kiril Stoyanov.
Delibes created "Lakmé", a pearl of the French opera, in the end of the XIX century. The opera was born during the time of bloom of the exotic, which captured the imagination of the artists from the different arts with the magical fascination of the Far Orient.
"Lakmé" is performed on few stages over the world. It is a great challenge not only as requirement of the style, but also to the artists, especially for the tenor part. Even such theatres like the Vienna State Opera difficultly afford themselves this title. "Lakmé" is an expression also of the strategy of the stage director Acad. Plamen Kartaloff for rediscovery of the little known in our country opera masterpieces.
A challenge is also the French language. This problem is solved with the intense work of Snezhina Rusinova with singers and chorus. In the spectacle "Lakmé" comes to life the exquisiteness of the lyrical and dramatical work, comes to life the theatre of the word, which makes close the experience also for the contemporary. The director's reading counts on the eternal topic – the power of love and self-sacrifice. Kartaloff is searching the depth of the plot, of the music and the psychology, set by the composer. He keeps that softness and flexibility, which captivates with the beauty and the sentiment.
The poor set design creates a modern feeling for this exotic fairy-tale. The spaces form themselves skilfully and without imposing themselves: the temple for prayers, the noisy marketplace and the intimacy of the experience of the love scenes. The beautiful costumes and the characteristic for the French opera ballet scenes are masterly realized by Maya Shopova and they exalt the fairy exotic character.
Kartaloff's artistic manner is characterized by plastic sculpting of the characters – musically and scenically, detailed working out of the ensemble scenes and turning of the chorus into a main character. Or his ability to model in maximum а full value ensemble theatre.