Newspaper "ZEMYA" – The opera "Amahl and the Night Visitors" with Christmas spectacles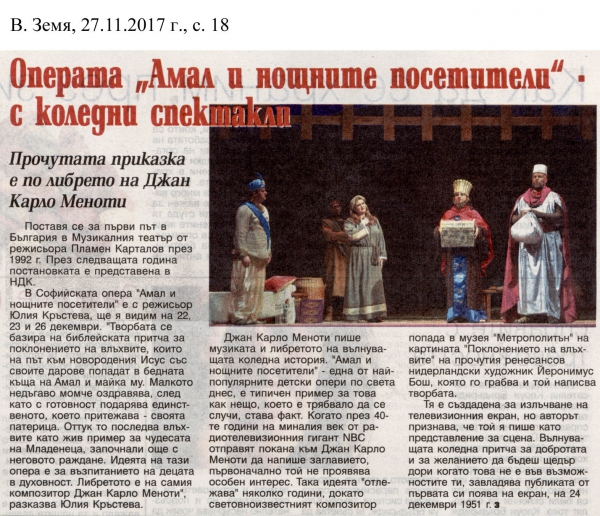 The opera "Amahl and the Night Visitors" with Christmas spectacles
The famous fairy-tale is after the libretto by Gian Carlo Menotti
It was set for the first time in Bulgaria at the Music Theatre by the stage director Plamen Kartaloff in 1992. Next year the production was presented in the National Palace of Culture.
At the Sofia Opera "Amahl and the Night Visitors" is with stage director Yulia Krasteva, we shall see it on 22, 23 and 26 December.
The work is based on the Bible parable about the adoration of the Magis, who, on their way to the newly born Jesus with their gifts, found themselves in the poor house of Amahl and his mother. The small invalid boy was healed after he gave with readiness as a present the only thing, he possessed – his crutch. From this moment, he followed the Magis as a living example for the miracles of the Infant, which started still with his birth. The concept of this opera is about the education of the children in spirituality. The libretto is by the composer Gian Carlo Menotti himself", tells Yulia Krasteva.
Gian Carlo Menotti wrote the music and the libretto of the moving Christmas story. "Amahl and the Night Visitors" – one of the most popular operas for children in the world today, is a typical example of how something, which had to happen, becomes a fact. When in the '40s of the past century the radio and TV giant NBC extended an invitation to Gian Carlo Menotti to write the title, initially he didn't show a special interest. That way the idea "matured" several years, before in the Metropolitan Museum of Art the world-known composer came across with the painting "The Adoration of the Magi" by the famous Renaissance Dutch painter Hieronymus Bosch, which carried him away and made him take up the writing of the work.
It was created for broadcasting on the TV screen, but as the author admitted later on, actually he thought and wrote it as a spectacle for the stage. One way or another, the moving Christmas parable about goodness and the desire to be generous, even when you can't afford it, conquers the audience since its first appearance on the screen, on 24 December 1951.