Newspaper "24 chasa" – "The ballerinas of today are with more beautiful bodies than before"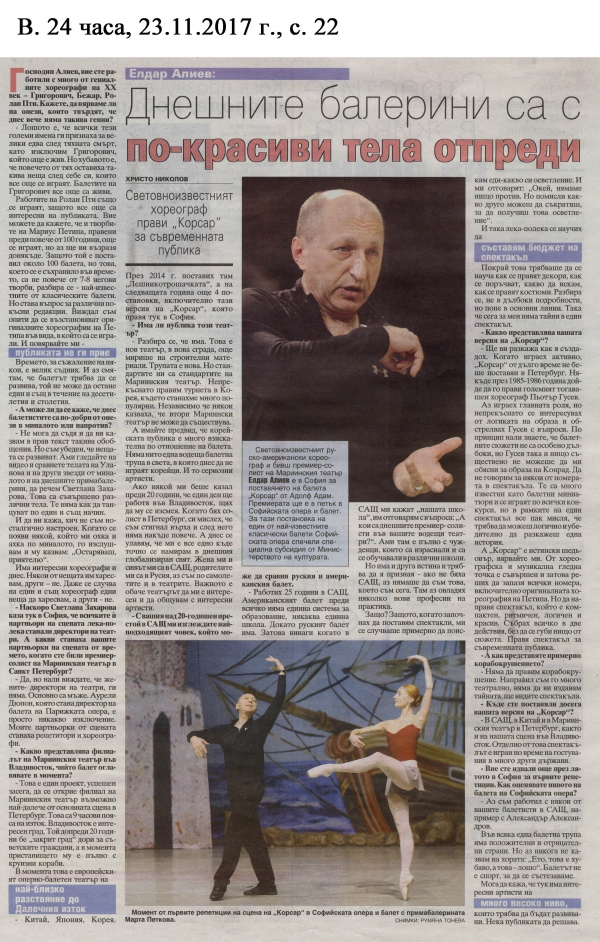 Eldar Aliev:
The ballerinas of today are with more beautiful bodies than before

The world-known choreographer makes "Le corsaire" for modern audience
The world-known Russian-American choreographer and former premier soloist of the Mariinsky Theatre Eldar Aliev is in Sofia for the staging of the ballet "Le corsaire" by Adolphe Adam. The premiere will be on Friday at the Sofia Opera and Ballet. For this production of one of the most famous classical ballets the Sofia Opera won a special subsidy from the Ministry of Culture.
- Mr. Aliev, you have worked with many of the choreographers of genius of the 20 century – Grigorovich, Béjart, Roland Petit. Tell us, do we have to believe those, who claim that today there are no more such geniuses anymore?
- The bad thing is that all these great names were recognized after their death, with exception of Grigorovich, who is still alive. But the good news is that most of them left behind such things, which are still performed. Grigorovich's ballets are still alive.
The works by Roland Petit are being performed too, because they are still interesting to the audience. You can say that also Marius Petipa's works, made more than 100 years ago, are still performed, but I shall somewhat answer back to you. Because he staged about 100 ballets, but what is conserved in time, is not more than 7-8 of his works, of course – the best-known from the classical ballets. But the matter is about different later versions. I have seen attempts Petipa's original choreographies to be restored in the form, in which they were performed. And believe me – the audience didn't accept them.
Time, to the regret of some people, is a great judge. And I consider that the ballet must develop itself, it cannot remain one and the same in the course of decades and centuries.
- And can we say that today the ballet dancers are better than those of the past or on the contrary?
- I cannot judge and tell you directly such general conclusions. But I am convinced that things take their course. Well, just watch on video and compare the bodies of Ulanova and of other stars from the past and of today's prima ballerinas, let's say Svetlana Zakharova. These are completely different bodies. It is not possible for them to dance in the same way.
And let me tell you, I am not at all nostalgically tuned. When someone appears, who moans and groans for the past, I am listening to him and tell him: "You are growing old, my friend."
There are interesting choreographers today too. I like some of their things, others – not. It even happens to me to like some things of the same choreographer, and others – not.
- Recently Svetlana Zakharova said here, in Sofia, that all of her partners on the stage little by little have become directors of theatres. And what became of your female partners on the stage from the time, when you were premier soloist of the Mariinsky Theatre in St. Petersburg?
- Yes, but you see well that women directors of theatres don't exist. They are mainly men. Aurélie Dupont, who became Director of the ballet of the Paris Opera, is just an exception. My partners on the stage became répétiteurs and choreographers.
- What is the affiliate of the Mariinsky Theatre in Vladivostok like, the ballet of which you are taking the lead at the moment?
- This is a project, successful for now, to be opened an affiliate of the Mariinsky Theatre as far as possible from the main stage in St. Petersburg. These are 9 time zones to the East. Vladivostok is an interesting city. Until 20 years ago, it was a "closed city" even for the Soviet citizens, and at the moment its harbour is full of cruise ships.
At the moment this is the European opera and ballet theatre at the closest distance to the Far East – China, Japan, Korea. In 2014 I staged there the "Nutcracker", and the next year 4 more productions, including this version of "Le corsaire", which I am making here, in Sofia.
- Does this theatre have an audience?
- Of course, it does. This is a new theatre, in a new building, it still smells of construction materials. The company is new. But our standards are the standards of the Mariinsky Theatre. We make incessantly tours in Korea, where we became very popular. Regardless of the fact that some people were saying that a second Mariinsky Theatre couldn't exist.
Please have also in mind that the Korean audience is very exigent in respect of the ballet. There is not a single leading ballet company in the world, in which no Koreans play today. At that serious artists.
If someone had told me 20 years ago that one day I would work in Vladivostok, I would laugh at him. When I was soloist in St. Petersburg, I thought I have reached the top and after it there was no more where to go. My wife and my son are in the USA, my parents are in Russia, and I am in the airplanes and in the theatres. The important is however the theatre to be interesting to me and to communicate with interesting artists.
- With your 20-year stay in the USA, you seem to me the most appropriate person, who could compare the Russian and the American ballet.
- I worked 25 years in the USA. The American ballet, to begin with, has no unified system for education, some kind of united school. Whereas the Russian ballet has. That's why always when in the USA they tell me "our school", I am answering with the question: "And who are the premier soloists of today in your leading theatres?". Well, there is full of foreigners, who have grown up and studied in different schools.
But there is also another truth and I must confess it – if there weren't the USA, I wouldn't be what I am now. There I mastered several new professions in practice.
Why? Because when I started staging spectacles, it happened to me for example to ask for such and such lighting. And they answered to me: "Well, we have nothing on the contrary, but think what else you could reduce, in order to become this lighting."
And so little by little I learned how to make a budget of a spectacle. Along with that I had to learn how sets are made, how they have to be ordered, what do I have to ask, how costumes are made. Of course, not in deep details, but at least in main lines. So that now for me there are no secrets in one spectacle.
- What is your version of "Le corsaire" like?
- I shall tell you how I created it. When I was playing actively, "Le corsaire" wasn't staged in St. Petersburg since a long time. Somewhere in 1985-1986 there came to make it the great choreographer of that time Pyotr Gusev.
I was playing the main role, but I was permanently interested in the logic of the character and I kept asking Gusev questions. In general, you know that ballet plots are not too deep, but Gusev so and so couldn't explain to me anything essential about the character of Conrad. Not to speak about some parts of the scenes – the so called numbers – in the spectacle. They are very famous as ballet miniatures and are performed at all ballet competitions, but in the frames of one spectacle I still think that one has to be able to tell logically and convincingly one story.
And "Le corsaire" is a real masterpiece, believe me. From a choreographic and musical point of view, it is perfect and this is why I decided to keep all numbers, including Petipa's original choreography. But to make a spectacle, which is compact, rhythmical, logical and beautiful. I gathered everything in two acts, without losing anything of the plot. I make a spectacle for modern audience.
- And how do you present for example the shipwreck?
- We won't make a shipwreck. I have made it very theatrically, I won't tell you the secret, you will see the spectacle.
- Where have you staged your version of "Le corsaire" so far?
- In the USA, in China and at the Mariinsky Theatre in St. Petersburg, as well as on our stage in Vladivostok. Besides, the spectacle was performed during guest-performances in many other countries.
- You have come still this summer in Sofia for the first rehearsals. How do you estimate the level of the ballet of the Sofia Opera?
- I have worked with some of your ballet dancers in the USA, for example with Aleksandar Aleksandrov.
In each ballet company there are positive and negative sides. But I never say to the people: "Well, this is good, this is bad." Ballet is not a sport and we don't need to compete.
I can say that here there are interesting artists at a very high level, who have to be developed. Let the audience decide.

HRISTO NIKOLOV