The favorite musical of the young spectators will be performed on 23 and 24 May at the tent
The Sofia Opera and the Balkanski Academic Circus invite all young and adult spectators to "Shrek" at the circus. For the first time, the children's favorite musical, which is being performed at the Opera, will delight the audience at the tent on the holidays of 23 and 24 May.
Balkanski Circus presents a spectacle of the Sofia Opera on 23 May at 19 h and on 24 May at 11 and 17 h. The original Broadway production was produced by DreamWorks Theatricals and Neal Street Productions.
The composer of "Shrek" is Jeanine Tesori. She is the most respected female theatre composer in history, with five Broadway musicals and five Tony Award nominations. In July 2019, Tesori premiered her opera "Blue" (libretto: Tazewell Thompson) at the Glimmerglass Festival in Cooperstown, New York.
West Hyler is a Broadway guest director of "Shrek". He has staged impressive titles, including "Cirque du Soleil" (Broadway / Germany), "The Little Prince" (Poland), "Big Apple Circus" (Lincoln Center, New York), "Panda" (Beijing State Theatre), the puppet musical "Avenue Q" (Sofia Puppet Theatre, awarded with the IKAR award), etc. He has been a guest director at the Great River Shakespeare Festival, the New York Musical Festival, the Louisville Ars Nova National Theatre and others.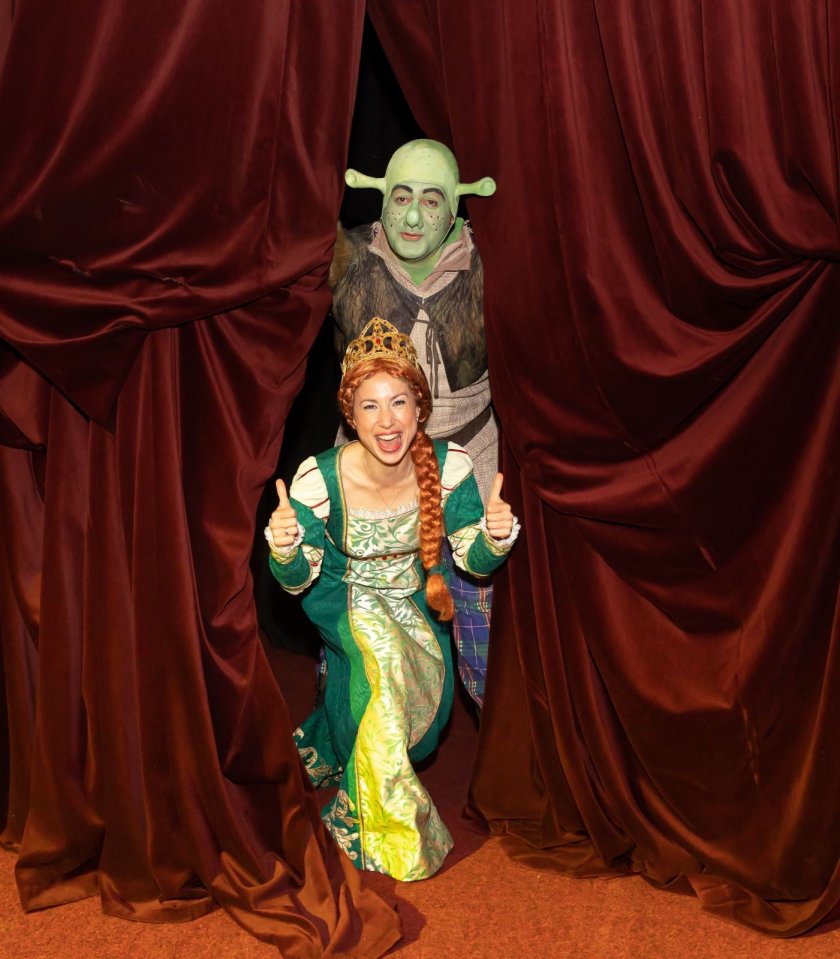 Vesela Delcheva as Fiona and Atanas Yonkov as Shrek are expecting children in the circus
Conductor of the production is Igor Bogdanov, Set designer – Charles Murdoch Lucas, Costume designer – Whitney Locher, Lighting designer – Zach Blane, Sound engineer – Vladimir Vladimirov, Choreographer – Riolina Topalova.
The spectacular musical is based on the cult DreamWorks Animation and William Steig's book. The translation is by Lora Dimitrova, Miroslav Dimov and Boris Pankin. The world-famous musical "Shrek" is suitable for our young audience. The musical "Shrek" has 8 nominations for the Tony Award and was awarded in the category of best costumes in a musical.
Once upon a time... In a remote swamp lived a terrible ogre named Shrek. His peace was suddenly broken by the arrival of tiresome Fairy-tale Creatures, chased away from their home by the evil Lord Farquaad. Intent on saving their home, as well as his own, Shrek makes a deal with Farquaad – he will go and find the beautiful young princess Fiona and bring her for his bride. But there is a deep and dark secret...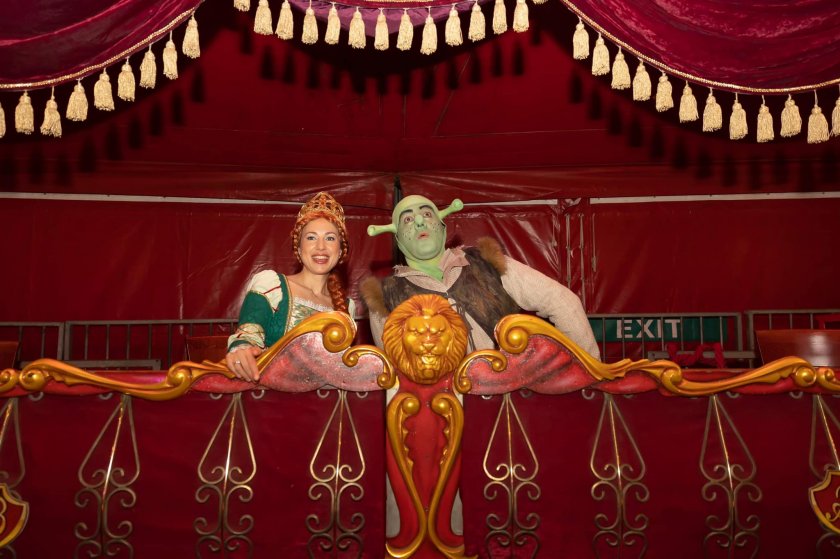 Characters and performers:
Shrek – Atanas Yonkov, Konstantin Ikonomov
Fiona – Vesela Delcheva, Krastina Kokorska
Donkey –Tsvetelin Pavlov
Lord Farquaad – Kamen Asenov
Dragon – Vesela Yaneva
Fairy-tale characters:
Sugarplum Fairy, Antelope, Cake, Lava, Ensemble – Adelina Tomova
The Three Pigs, The Three Blind Mice, Duloc Dancer, Happy Paysan, Ensemble – Ayla Dobreva
The Three Pigs, The Three Blind Mice, Duloc Dancer, Bluebird (voice), Happy Paysan, Lava, Ensemble – Anna Vutova-Stoycheva
Little Shrek, A Dwarf – Anton-Mario Petrov
Elf, Ensemble – Boryana Yordanova
Mama Ogre, Gingy, Dragon's Head, Little Rabbit, Yan Bibiyan, Little Devil, Puss-in-Boots, Ensemble – Ventsislava Asenova
Humpty Dumpty, Duloc Dancer, The Black Knight, Ensemble – Georgi Dzhanov
Papa Ogre, Captain of the Guards, The Black Knight, Ensemble – Gyorgi Georgiev
Teen Fiona, The Ugly Duckling, Dragon's Head, The Golden Girl, A Sign, Bluebird, Ensemble – Iren Lazarova
White Rabbit, A Guard, Happy Paysan, Ensemble – Kalin Dushkov
Little Fiona – Kalina Asenova
The Big Bad Wolf, Thelonious, Lava, Ensemble – Kiril Ivanov
The Three Pigs, The Three Blind Mice, Duloc Dancer, Dragon's Head, Happy Paysan, Lava, Ensemble – Mihaela Simeonova
Pinocchio, Duloc Dancer, Ensemble – Nikola Popov
A Guard, Happy Paysan, Ensemble – Ovanes Kasparyan
Queen Lilian, Fairy Godmother, Ensemble – Pavleta Semova
King Harold, Papa Bear, The Black Knight, A Guard, Ensemble – Plamen Granjean
Evil Queen, Ensemble – Rada Toteva
Mad Hatter, Duloc Dancer, The Black Knight, A Priester, Happy Paysan, Ensemble – Radoslav Vladimirov
Mama Bear, Baby Bear, Ensemble –Yuliana Katinova
Peter Pan, Ensemble – Tsvetelina Kotseva

https://lupa.bg/