SOFIA OPERA PEARLS STREAMS CONTINUES WITH THREE PERFORMANCES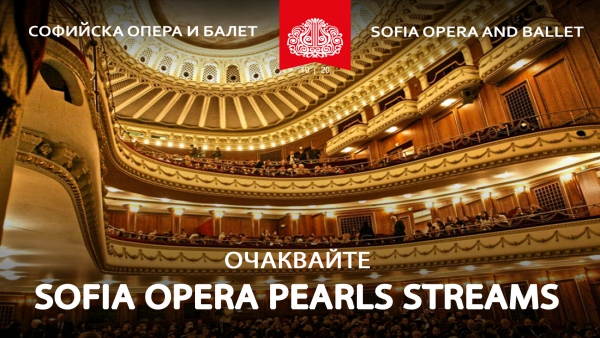 SOFIA OPERA PEARLS STREAMS includes THREE NEW PROPOSALS in the third week of its online performances:



Friday 27.03. 17:00
"LA BAYADÈRE" Ballet by Ludwig Minkus

Starring: Kimin Kim (premier soloist at the Mariinsky Theatre), Marta Petkova, Venera Hristova, Rosen Kanev, Rumen Bonev, Nikola Arnaudov

Choreography by Marius Petipa
Directed by Pavel Stalinski
Conductor Boris Spasov





About the ballet "LA BAYADÈRE"

"La Bayadère", one of the most exciting masterpieces of the famous Petipa, is inspired by the drama of the ancient Indian poet Kalidasa and Goethe's ballad "La Bayadère". Tragedy and lyricism, the pursuit of happiness, love and freedom are intertwined in this fairytale work that takes place in ancient India.

The plot follows the passionate and all-consuming love of the temple dancer (bayadère) Nikia for the brave warrior Solor. Faithfulness, betrayal, sincerity and insidiousness are at the heart of this thrilling ballet performance that reigns over time as apotheosis of ardent love.

For the first time on the stage of the Sofia Opera and Ballet in 2012 was presented the full original version.

Pavel Stalinski is one of the most significant Russian choreographers. He has staged ballet performances all over the world

The recording is from the archive of the Sofia Opera (18.01.2020)






Saturday 28.03. 17:00
"IL TROVATORE" by Giuseppe Verdi

Starring: Ventseslav Anastasov, Radostina Nikolaeva, Svetozar Rangelov, Ivanka Ninova, Daniel Damyanov.

Conductor Laurent Campellone
Directed by Filippo Tonon
Revival Vera Beleva






"IL TROVATORE" by Giuseppe Verdi

One of Maestro Verdi's most beloved operas is "Il trovatore".

The librettist Cammarano has created a storyline that unleashes all human passions: love, hatred, intrigue and tragedy.

Verdi's music is captivating. It is a captivating dramaturgy of arias, duets, ensembles, and impressive choral scenes – real pearls that live also on the concert podium with great success.

The recording is from the archive of the Sofia Opera and is co-produced with TV 1 (2019).




Sunday, 29.03. 16:00
"NABUCCO" by Giuseppe Verdi

Starring: Vladimir Stoyanov, Roberto Scandiuzzi, Susanna Branchini, Daniel Damyanov, Shay Bloch, Kakhaber Shavidze, Silvana Pravcheva.

Conductor Mikhail Sinkevich
Director Plamen Kartaloff
Multimedia Vera Petrova




A staging of the opera by Giuseppe Verdi "Nabucco", which came to life under the sky of Sofia in the embrace of the most magnificent temple in the Balkans, the cathedral "St. Alexander Nevski" – this was the latest conception of new emblematic spaces for outdoor opera performances by director Plamen Kartaloff, founder of "Stage of the Ages" Festival on Tsarevets Hill back in 1983, the monumental performances on Alexander Battenberg Square in the capital, "Opera at the Military Academy Park", "Opera of the Peaks – Belogradchik Rocks", St. Alexander Nevski Square and many others.

How the Biblical theme of the conquest of Jerusalem by Nebuchadnezzar and the destiny of the enslaved Jews unfolds in the masterpiece of Maestro Giuseppe Verdi, you will have the opportunity to see in the programme of our latest initiative SOFIA OPERA PEARLS STREAMS on the platforms on the site and the Facebook page on 29.03., Sunday, from 16:00.

The live recording was archived in partnership with TV 1.

The production was specially conceived and created for the square of the historic cathedral in the centre of Sofia.

You will experience the violent passions that unleash the plot of the opera with an international cast, "The Knight of Verdi" Vladimir Stoyanov – Nabucco, Susanna Branchini – Abigaille, Roberto Scandiuzzi – Zaccaria, Daniel Damyanov – Ismaele, Shay Bloch – Fenena, Kakhaber Shavidze – High Priest, Silvana Pravcheva – Anna.

The recording is from the archive of the Sofia Opera in co-production with TV 1 (2016)