The ballet "1001 Nights" with premiere at the Sofia Opera in March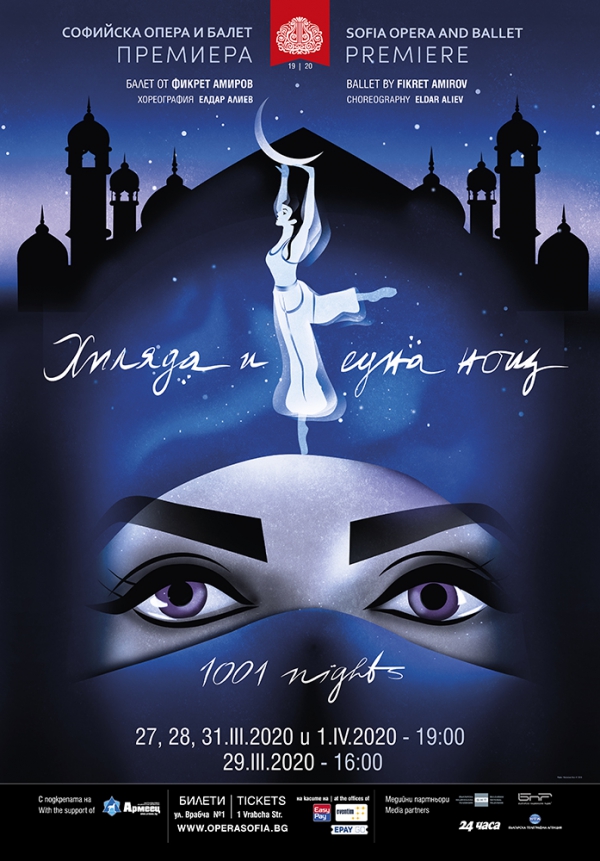 The ballet "1001 Nights" is the next premiere title in the playbill of the Sofia Opera and Ballet. The theatre invites its spectators and the admirers of ballet art on 27, 28 and 31 March at 19 h and at 16 h on 29 March, to touch themselves to the fairy-tale plot, telling the stories about King Shahryar, about Scheherezade, about the adventures of Sinbad the Sailor, of Aladdin, Ali Baba and the Forty Thieves and the rest of the characters, known to us from the famous literature work "1001 Nights".
Besides the play of the artists from the ballet company of the Sofia Opera, the spectators will have the possibility to enjoy also the music to the ballet, written by the Azeri composer Fikret Amirov, in whose biography are included many created by him ballets, music comedies, chamber and symphonic works, film music. In his creative work Fikret Amirov uses mainly Azeri folk motifs and rhythms, which gives a special vividness to his compositions.
The choreographer of the spectacle is Eldar Aliev, known to the Bulgarian audience with his work on the ballet "Le Corsaire", produced on the stage of the Sofia Opera and Ballet. Eldar Aliev is a Ballet Master in Chief at the Mariinsky Theatre. Parallelly, he is working on the preparation of spectacles in more than 40 countries. He has participations at the Kennedy Centre in Washington, D.C., the Metropolitan Opera in New York, Opéra de Paris, Teatro dell'Opera di Roma, La Scala in Milan, Covent Garden, the Berlin State Opera, the Sydney Opera House and others.
Aliev is a Honorary Professor of the Shenyang Conservatory of China in the field of dance. He is laureate of many national and international awards.
The tickets for all spectacles of the Sofia Opera and Ballet are already in sale at the Ticket Office of the Opera at 1, Vrabcha Str., as well as at the ticket offices of Easy Pay in the whole country, in the net of eventim.bg and Е-pay go and on the Internet at operasofia.bg.