PHOTO EXHIBITION FROM THE REPERTOIRE OF THE SOFIA OPERA IN THE PARLIAMENT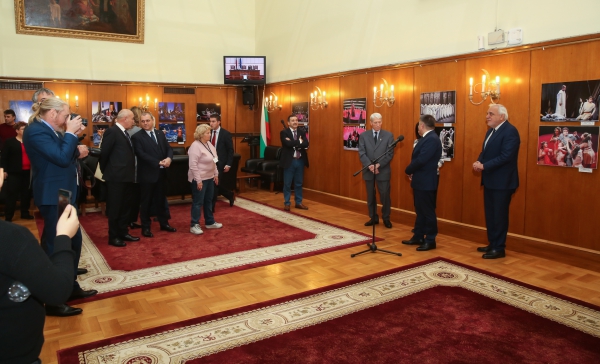 Photos, reproducing the atmosphere and the suggestion of the spectacles of the Sofia Opera and Ballet by their guest-performances at the Bolshoi Theatre – Moscow, presents an exhibition in the National Assembly. The exposition, in which are included ca. 30 frames by the photographer Evgeniy Stanimirov from Ruse, was opened on 5 February 2020 by the President of the National Assembly Tsveta Karayancheva.
The Bulgarian operatic voices and splendid spectacles are among our most valuable contributions to the European and the world musical culture, emphasized Tsveta Karayancheva at the presentation of the exhibition. She pointed out that still before Bulgaria to return officially in the European family, the talents of the Sofia Opera and Ballet had already integrated the Bulgarian music art into the European spiritual space.
The President of the Parliament congratulated the Director of the Sofia Opera Academician Plamen Kartaloff for his love and devotion to Bulgarian operatic art. He is a real champion and disseminator of Bulgaria's opera glory, marked Tsveta Karayancheva.
The President of the National Assembly congratulated also the author of the photo exhibition Evgeniy Stanimirov for his mastery and insight, with which he presents the five emblematic spectacles, given before the audience of Bolshoi Theatre.
This exhibition unites two worlds – of the parliament and of the opera, marked Academician Plamen Kartaloff. After his words, Evgeniy Stanimirov's photos are so expressive that they deserve to be seen by more opera lovers.
The exhibition of the Sofia Opera and Ballet is visiting the National Assembly on the initiative of the Minister of Justice Danail Kirilov.