THE MUSICAL "SHREK" WITH PREMIERE AT THE SOFIA OPERA – NEWSPAPER "24 CHASA"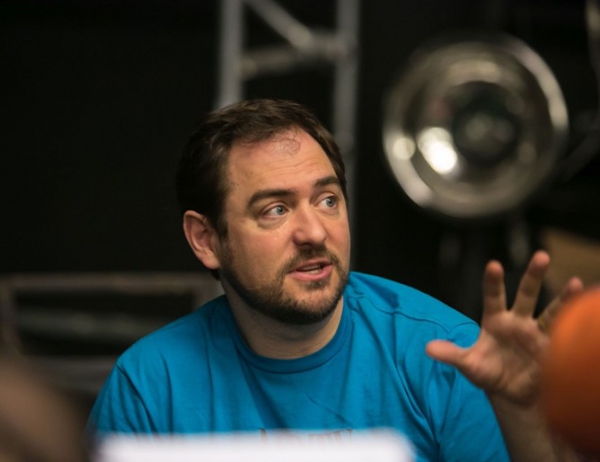 Guest-director from Broadway – West Hyler
The Sofia Opera presents for the first time in Bulgaria the musical "Shrek" by David Lindsay-Abaire and Jeanine Tesori – original Broadway production by DreamWorks Theatricals and Neal Street Productions.
The premiere is on 14 February at 19 h. Stage director of "Shrek" is West Hyler (USA). The original production on Broadway was directed by Jason Moore and Rob Ashford.
Conductor of the Sofia production is Igor Bogdanov, Assistant Conductor – Svetoslav Lazarov, Set Designer – Charles Murdock Lucas, Costume Designer – Whitney Locher, Lighting Designer – Zach Blane, Sound Engineer – Vladimir Vladimirov, Choreography Riolina Topalova.
The spectacular musical was created based on the cult DreamWorks Animation and William Steig's book.
The translation is made by Lora Dimitrova, Miroslav Dimov and Boris Pankin.
The popular all over the world musical "Shrek" is appropriate for children and adults.
West Hyler is a Broadway stage director. He has staged impressive titles among which – "Cirque du Soleil" (Broadway/Germany), "The Little Prince" (Poland), Big Apple Circus (Lincoln Center, New York), "Panda" (Beijing National Theatre), the puppet musical "Avenue Q" (State Puppet Theatre, Sofia, distinguished with the IKAR Award, etc. He was guest-director at Great River Shakespeare Festival, New York Musical Festival, Ars Nova National Theater in Louisville, etc.
The composer of "Shrek" is Jeanine Tesori. She is the most respected female composer in the history, with five Broadway musicals and five Tony nominations. In July 2019, Tesori premiered her opera "Blue" (libretto: Tazewell Thompson) at the Glimmerglass Festival in Cooperstown, New York.
The musical "Shrek" has 8 Tony nominations and is distinguished in the category for Best Costume Design in a musical.
The magical story of the evoking the sympathies of the audience green ogre Shrek and his friends – famous fairy-tale characters, among which Pinocchio, Peter Pan, Evil Queen, Ugly Duckling and others, in an appealing way will tell before the audience the artists: Konstantin Ikonomov, Atanas Yonkov, Krastina Kokorska, Boyan Arsov, Tsvetelin Pavlov and others. In the spectacle take place the Ballet and the Orchestra of the Sofia Opera and Ballet.
What is Shrek's secret which he hides to the last in himself, keeping his promise –
to bring back home the expelled from their kingdom fairy-tale characters? Will he really win the love of Princess Fiona, hold captive by a fire dragon in a strictly guarded castle?
What will be the denouement the audience will have the possibility to learn at the premiere spectacles on 14 at 19 h, 15 and 16 February at 11 and at 19 h, and on 18 February at 19 h. The tickets for the spectacles are already on sale at the Ticket office of the Sofia Opera and Ballet and online in the nets of eventim.bg and Е-pay go.

https://www.24chasa.bg/ojivlenie/article/8117740