Marin Goleminov's opera "Zahary the Painter" comes to life again after two decades – Newspaper GALERIA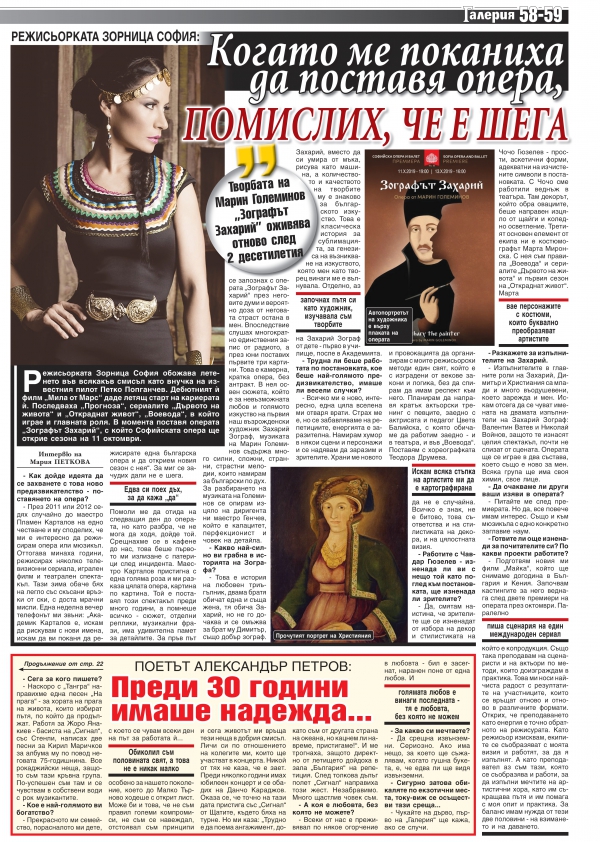 Interview of the stage director Zornitsa Sofia for GALERIA:
- How came the idea to set about with this new challenge – the staging of an opera?
In 2011 or 2012, I was sitting by chance next to maestro Kartaloff at one celebration, we got acquainted and I shared with him that it is interesting for me to direct an opera or a musical. Since then passed years, I directed several TV series, one feature film and one theatre spectacle. This winter, however, I was not at shooting, I was lying abed, with torn ligaments from skiing, with quite gloomy thoughts and one Sunday evening my phone rang: "It is Academician Kartaloff, I would like to risk with new names, I would like to invite you to direct one Bulgarian opera and open the season with it. For a moment I was wandering if it is not a joke. I could hardly breathe in to say "yes". He asked me to come the next day to the Opera to have a talk, I told him that I cannot walk. "Then I will come", and he did it. We met in a café close to my home, this was my first going out with crutches after the accident, maestro Kartaloff came with one big rose and told me the whole opera, scene after scene. He had staged this spectacle many years ago, and remembered everything: plot, separate cues, musical phrases, as a whole he has an amazing memory for the details. For the first time I got acquainted with the opera "Zahary the Painter" through his words and probably a dose from his passion remained in me. Subsequently, I was listening to the only recording from the radio many times, I am already feeling it, and I am even singing it in accompaniment, and in June I staged the first three scenes. This is a chamber, short opera without interval, in which besides the plot, which is about the impossible love and the great art of our first Revival painter Zahary the Painter. Marin Goleminov's music itself contains some very strong, complex, strange, passionate melodies, which I find Bulgarian in spirit. For the understanding of Goleminov's music I rely absolutely on maestro Genchev, our conductor, who is an expert and besides a perfectionist and a man of detail.
- What grabbed you most of all in the story of the Painter?
This is a story of a love triangle, two brothers love the same woman, she loves Zahary, but she doesn't wait for him and marries his brother, also a good painter, Dimitar, and Zahary, instead of dying from sorrow, is painting like a machine, and the quantity and the quality of his works is emblematic for the Bulgarian art. This is a classical story about sublimation, about the genesis of the rise of art, which has always moved me as artist. Besides, I started my path as painter, I was studying the works of Zahary the Painter since I was a child in history of art – first at school, then at the Academy.
- Tell me about your work on the production – was it difficult, what was the greatest challenge, were there comic, curious stories – the readers will be glad to know...
Everything is new, interesting to me, an entire universe opens its doors before me. I am scared, but I am amusing myself at the rehearsals, the energy is infectious. I find humour in some scenes and personages and I hope to infect the spectators too. The new things feed me up and the provocation to organize with my director's methods one world, which has centuries old developed laws and logic, without ceasing to have respect towards it. I plan to make a short training in acting with the singers with the actress and pedagogue Tsveta Baliyska, with whom we like to work together – at the theatre, as well in "Voevoda". I am staging with the choreographer Teodora Drumeva, I want each step of my artists to be mapped, not to be accidental, everything is a sign, it is not kitchen-sink. This is in accordance also with the stylistic of the sets and with the whole vision.
- You are working with Chavdar Ghiuselev – did he surprise you with something as a look on the production, will he surprise the spectators?
Yes, I think really that the spectators will be surprised by our choice of sets and the stylistic of Chocho Ghiuselev – simple, ascetic forms, symbols, adequate to the simplified symbols in the mise-en-scene of the artists. It has nothing to do with kitchen-sink and literal conduct and sets. With Chocho we have already worked once at the theatre, there the entire sets, which won the ovations, were made of crates and Christmas lighting. The third main element of our team is the costume designer Marta Mironska. With her I made "Voevoda" and the series "Tree of Life", and the first season of "Stolen Life". Marta is modelling the personages with costumes, which literally transform the artists.
- Tell us about the performers of Zahary and Hristiania...
The performers of the lead roles of Zahary, Dimitar and Hristiania are young and very enthusiastic, this charges me too. I am not sure that I could mention their names yet, because not everyone, with who I am rehearsing, will remain in the spectacle. This will be decided by the conductor maestro Velizar Genchev. I personally began loving them. But I would like from now to be heard the names of the both Zahary the Painter: Valentin Vatev and Nikolay Voynov, because they are carrying the entire spectacle, they are practically not going down from the stage for 90 minutes. The opera will be performed with two casts, this is also new for me. Each group will have its own chemistry, its own face. I am rehearsing hard and equally with all of them and from now on I am to distribute them into casts.
- Should we expect your other appearances at the Opera?
Ask me after the premiere. But yes, I get more and more interested, also in the musical and I have one concrete title in mind.
- Do you prepare more surprises for your admirers? What moves you most strongly now? On what projects are you working at the moment? Tell us about them...
I am preparing my new film "Mother", which we intend to shoot next year in Bulgaria and Kenia. We have won the Bulgarian financing, now we apply in France and Croatia, we are preparing a location scout in Kenia and I will start the castings right after the two premieres of the opera in October. Parallelly I am writing the scenario of one international serial, which is a coproduction and I am teaching screenwriters and actors in methods, which I am developing fully in the practice. The last activity brings me purest joy with the results of the participants, who come back again and again in the different formats. I found out that teaching as energy is exactly the opposite to directing. As a director I require, the teams take my vision into consideration and are working in order to fulfil it. And as a teacher I am the one, who takes into consideration and works to fulfil the dreams of artistic people, by shortening their way and supporting them with my experience and practice. I need these two halves – of the taking and giving, for balance.