The impressive opera "Prince Igor" again on the stage of the Sofia Opera – with a new reading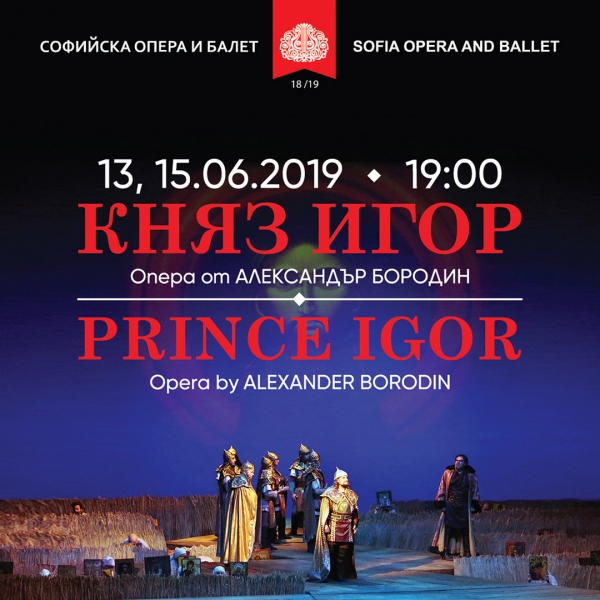 The Sofia Opera and Ballet invites its admirers on 13 and 15 June 2019 to visit the spectacles of the opera "Prince Igor" by Alexander Borodin. The stage director Academician Plamen Kartaloff this time has chosen to present to the audience a new reading of this opus, which will show the lead character in quite a new light from the known so far personage of Prince Igor as a vainglorious, envious and haughty man, who sends his unprepared army to certain death in the name of his ambitions. The spectacle has a new reading in which the finale with the Polovtsian Dances is more different and "audacious", as defines it the stage director himself. The message to the spectator for optimism is what motivates Academician Katraloff to decide to present an untraditional look at this otherwise classic masterpiece.
The feelings and emotions of the characters in the opera will be recreated the artists: Veselin Mihaylov, Gabriela Georgieva, Hrisimir Damyanov, Biser Georgiev, Angel Hristov, Tsveta Sarambelieva, Rosen Nenchev, Dimitar Stanchev, Angel Antonov, Vetka Petkova, Silvana Pravcheva.
Conductor of the spectacle is Pavel Klinichev – conductor of the Bolshoi Theatre. With its company he realized many guest-performances all over the world, and under Maestro Klinichev's direction at the Bolshoi Theatre have sounded more than forty works of art. Among them is Alexander Borodin's opera "Prince Igor" too.
Chorus master is Violeta Dimitrova, set designer – Boris Stoynov, the costumes are made by Svetla Kalaydzhieva and choreographer is Asen Gavrilov.