On 24 May at 16:00 h – festive spectacle "Yana's Nine Brothers" at the Sofia Opera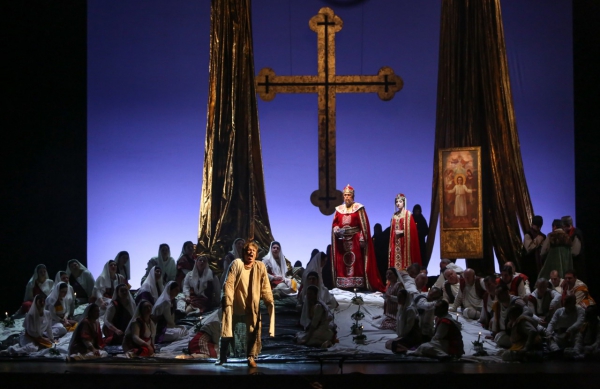 On the photo Kostadin Andreev in the role of Angel, Angel Hristov – The King and the Chorus of the Sofia Opera
On the photo – Lyubomir Pipkov
On 24 May at 16:00 h, on the occasion of the National Day of Culture and Slavic Script, the Sofia Opera and Ballet will present the opera YANA'S NINE BROTHERS by Lyubomir Pipkov. This performance is dedicated to the artistic unions in the field of art and culture, to their veterans and active figures. The spectacle with Plamen Kartaloff's magnificent director's solution, was presented with great success at the guest-performance of the Sofia Opera at the Bolshoi Theatre – Moscow in 2018, as well as in front of our guests at the Opera Europa Forum.
Participants:
Rumyana Petrova, Lilia Kehayova, Petar Buchkov, Kostadin Andreev, Angel Antonov, Emil Pavlov, Kalin Dushkov, Rosen Nenchev, Valentin Vatev, Nikolay Voynov /A Brother and The Blind Beggar/, Stefan Dimitrov, Nikolay Petrov, Daniel Ostretsov, Tsvetan Tsvetkov /Second Wood-Carver and Ivanish/, Atanas Mladenov, Stefan Vladimirov, Gergana Rusekova, Veselin Mihaylov, Nikolay Pavlov, Angel Hristov, Krasimir Dinev, Aleksandar Georgiev, Anton Radev, Mirela Yabandzhieva, Aleksandra Nosikova, Ana-Maria Kraycheva, Anna Vutova-Stoycheva, Iva Bizeva, Lora Ilieva, Rada Toteva, Hristina Pipova
Chorus and orchestra of the Sofia Opera and ballet
Conductor ZHORZH DIMITROV
| | | |
| --- | --- | --- |
| | | |
| On the photo the stage director Plamen Kartaloff | | On the photo Zhorzh Dimitrov – conductor of the spectacle |
On the photo Lilia Kehayova in the role of Yana and Svetozar Rangelov in the role of Georgi The Ugly
On the photo Hrisimir Damyanov in the role of Angel, Svetozar Rangelov – Georgi The Ugly, Lilia Kehayova – Yana, Wood-Carvers – Atanas Mladenov, Tsvetan Tzvetkov, Daniel Ostretsov and in the roles of the rest of the Brothers – Angel Antonov, Emil Pavlov, Kalin Dushkov, Rosen Nenchev, Valentin Vatev, Nikolay Voynov and Stefan Dimitrov
On the photos Gergana Rusekova in the role of The Gipsy and the Chorus of the Sofia Opera impersonated into mummers and babugers.


On the photo Aleksandar Georgiev in the role of The Old Man, Anton Radev – The Wanderer and the Chorus of the Sofia Opera
On the photo Petar Buchkov in the role of Georgi The Ugly, Kostadin Andreev – Angel, Gabriela Georgieva – Yana, Rumyana Petrova – The Mother and Yana's Brothers – Angel Antonov, Emil Pavlov, Kalin Dushkov, Rosen Nenchev, Valentin Vatev, Nikolay Voynov and Stefan Dimitrov


On the photo Veselin Mihaylov – The Bear-Trainer, Deyan Ivanov and Kiril Ivanov – The Bears Rashko and Marko, Rosen Nenchev – Yana's Brother, Stefan Vladimirov – Father Gerdan, Hrisimir Damyanov – Angel and the Chorus of the Sofia Opera


On the photo Kostadin Andreev in the role of Angel and the Chorus of the Sofia Opera


On the photo Petar Buchkov in the role of Georgi The Ugly


On the photos Gergana Rusekova in the role of The Gipsy


On the photo Rumyana Petrova in the role of The Mother and Gabriela Georgieva in the role of Yana


Pictures by: Светослав Николов