REQUIEM by Giuseppe Verdi – a sacred work which sounds on the opera stage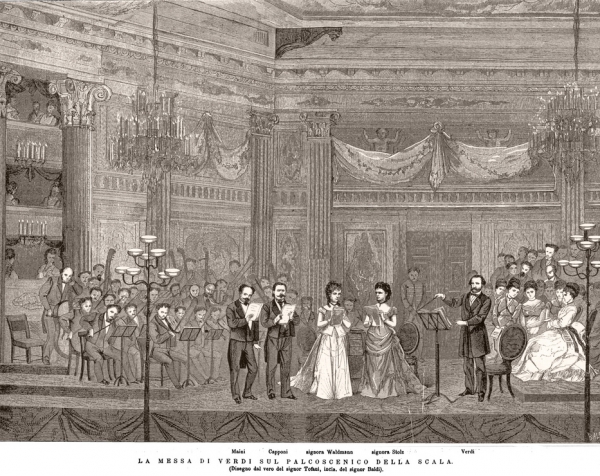 The second performance of "Requiem", at La Scala on 25 May 1874, with Verdi conducting. The soloists depicted are (from left to right) Ormondo Maini, Giuseppe Capponi, Maria Waldmann and Teresa Stolz.
The Messa da Requiem was first performed on 22 May 1874 and only three days later it was the first opus of this genre performed on an opera stage and that at La Scala di Milano.
This is not unfounded having in mind the work's character. Verdi uses dramatic contrasts to express the powerful emotions engendered by the text, the way he does it in his operas too. The terrifying Dies irae that represents the traditional cycle of the Latin funeral rite is repeated throughout. Although the sound of the trumpets reminds of a judgement in Tuba mirum, and the oppressive atmosphere of the Rex tremendae creates a sense of unworthiness before the Great King in the well-known tenor solo – Ingemisco radiates hope for the sinner who asks for the Lord's mercy.
The complicated eight-part fugue for double chorus Sanctus begins with fanfares, in order to announce him "who comes in the name of the Lord". Finally, in Libera me, the soprano cries out, begging": "Deliver me, Lord, from eternal death ...". The desperate supplication Verdi leaves without answer.
After Rossini's death in 1868, several composers were assigned to write a Requiem. At that time to the singers it was not permitted to take part in the rituals of the catholic church. In spite of that, Verdi was categorical in his wish to include female voices in his scores. In a letter the composer wrote: "If I were in the good graces of the Holy Father – Pope Pius IX – I would beg him to permit – if only for this one occasion – that women take part in the performance of this music." When Verdi started working on his Requiem, two of the soloists were sopranos, and in the chorus were included female voices.
After the premiere, the Requiem was criticized because of its closeness to the opera genre, in spite of the religious subject matter, on which it was written. The critics were divided between praise and condemnation with respect to Verdi's willingness to break standard compositional rules for musical effect.
Time has proven that namely this particularity is the reason for the work's enormous success. The sublime character and the shaking melodies of "Requiem" move the inmost feelings and experiences of human soul.