The tenor Kamen Chanev will be guest-performer in "Turandot". The bass Giorgi Kirof will be guest in the role of Timur in Puccini's famous opera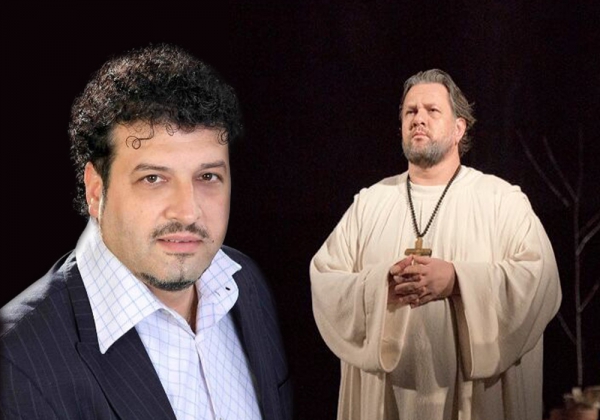 The renowned tenor Kamen Chanev, who presented during the past months to the audience many participations of his on the stage of the Sofia Opera and Ballet, will show his brilliant height again on 2 March in the role of Calaf from the opera "Turandot".
Our audience will have the chance to meet him also on 12 March, in Verdi's "Requiem", several weeks before Easter. In "Requiem" Chanev will sing together with the celebrated soprano Krassimira Stoyanova and with the young talent – the mezzo-soprano Violeta Radomirska. Guest will be also the bass Maxim Kuzmin-Karavaev. The well-known soloists will sing under the baton of Giordano Bellincampi.
In the end of last year, in November, the Bulgarian bass Giorgi Kirof achieved a great success in the role of Timur from the opera "Turandot" on the stage of the Metropolitan Opera. The American medias wrote that Kirof's debut showed the best – a vocal and actor's mastery, which could be required from this role. He reached emotional heights, which made the spectators lose their breath.
On 2 March the Bulgarian audience will have the possibility to see Giorgi Kirof on the stage of the Sofia Opera and Ballet in the role of Timur from "Turandot" by Puccini. The beginning of the spectacle is at 19:00 h.
Giorgi Kirof graduated from the French Language School, and after that he continued his education at the Academy of Arts in Rome with singing by Nicola Ghiuselev.
He made his debut in France as Tomaso from "Un ballo in maschera" by Verdi in 1996. In Bulgaria his first appearance was as Don Basilio at the Varna Opera in 1997.
His first participation at the Sofia Opera was in season 2000-2001 – Osmin from "Die Entführung aus dem Serail" by Mozart of the director Plamen Kartaloff. In our first opera theatre he worked out a vast repertoire with the main bass parts among which Sparafucile, "Rigoletto"; Fafner, "Das Rheingold"; Timur, "Turandot" and others.
He sang on the stages of Munich (Sir Giorgio Talbot) in "Maria Stuarda", together with Krassimira Stoyanova and Alexandrina Pendatchanska – 2011, Salzburg (The Great Inquisitor) from "Don Carlo" by Verdi – 2003, for "arte TV" in Marseille – Il Commendatore from "Don Giovanni" by Mozart, for the Spanish Television in Valencia – Zaccaria from "Nabucco" by Verdi.
He was guest-performer in Germany, Austria, Spain, Italy, France, Switzerland in the operas "Don Giovanni" (Mozart), "Don Carlo" and "Aida" (Verdi), Fiesco from "Simon Boccanegra" (Puccini). He sang on one stage with the tenor Stephen Costello, Varlaam in "Boris Godunov" in Savonlinna, Finland with Matti Salminen, José Cura and others.
Participants: Gabriela Georgieva, Miroslav Andreev, Silvana Pravcheva, Atanas Mladenov, Nikolay Pavlov, Hrisimir Damyanov, Nokolay Petrov

Conductor: Grigor Palikarov
Duration: 3 hours, with 2 intervals
Image Gallery
Pictures by: Kostadin Chernev