Bulgarian Telegraph Agency – the ballet "Le corsaire" is for the first time on the stage of the Sofia Opera, the premiere is on 24 November – Ballet by Adolphe Adam - Балет от Адолф Адам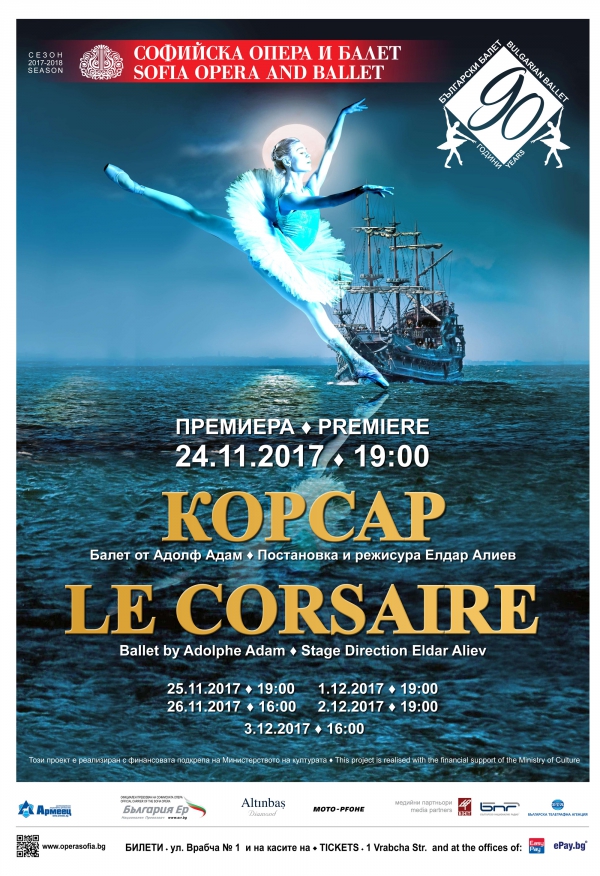 Bulgarian Telegraph Agency – the ballet "Le corsaire" is for the first time on the stage of the Sofia Opera, the premiere is on 24 November – Ballet by Adolphe Adam
The ballet "Le corsaire" by Adolphe Adam is for the first time on the stage of the Sofia Opera and Ballet, the premiere is on 24 November, informs the theatre.
Eldar Aliev is choreographer, author of the libretto and light designer of the original and dynamic version of the work. Among the soloists are Tsetso Ivanov, Nikola Hadzhitanev, Aleksandar Aleksandrov, Emil Yordanov, Katerina Petrova, Marta Petkova, Boryana Petrova, Venera Hristova.
"Le corsaire" is one of the well-known classical ballets, which we will include with great pleasure in our repertoire, says Sara-Nora Krysteva, Artistic director of the ballet of the Sofia Opera. She met Eldar Aliev, the world-known ballet dancer, choreographer and pedagogue, in 2014 at the International Ballet Competition in Varna. Then the choreographer promised to stage in Sofia his own version of the famous ballet.
Aliev has come several times in the Opera, in order to make himself familiar with the ballet company. The choreographer has excellent impressions from the discipline and the talent of the artists. He will come again on 17 November and will be here till the premiere on 24 November.
Eldar Aliev was born in Baku where he graduated from the Baku College of Choreography. From 1979 to 1992 he was a leading soloist of the Kirov (Mariinsky) Theatre. In his repertoire were leading parts in the ballets Don Quixote, The Legend of Love, Le Corsaire, Swan Lake, La Bayadère, Spartacus and many more.
He has been guest-performer in over 40 countries all over the world and on some of the most prestigious stages in Europe and America. As a dancer he worked with celebrated contemporary choreographers, among which Grigorovich, Petit, Béjart, Alonso, Vinogradov, Vasiliev, Wainrot.
Since 1992 he has worked in the USA, where he was invited to be a leading soloist of Ballet Internationale (Indianapolis). Soon he became Artistic director of the company, which turned into a world class professional collective, performing in front of the delighted audience of the USA, Canada, China and other countries.
Till 2005, under the direction of Eldar Aliev, Ballet Internationale presented more than 30 productions, among which his author's versions of 1001 Nights by Amirov, The Nutcracker and Sleeping Beauty by Tchaikovsky, The Firebird by Stravinsky, Le Corsaire and Giselle by Adam, Don Quixote by Minkus. He was awarded for his input into the development of arts in the USA, and the 21st of June was pronounced by the Mayor of Indianapolis to be Eldar Aliev Day.
Since 2006 he has worked as a guest consultant, pedagogue, ballet master and choreographer in leading companies and academies in Europe, Asia and America. He is Artistic director of the Hungarian National Ballet, he has given lectures at Harvard University. He was a jury member of international ballet competitions in Prague, Seoul, New York and Beijing. Since 2016 he has been the head ballet master of the Primorsky Stage of the Mariinsky Theatre and Honourary Professor of the Shenyang Conservatory in China.

Sofia, 7 November /Penka Momchilova, BТА/