DON GIOVANNI - Opera by Wolfgang Amadeus Mozart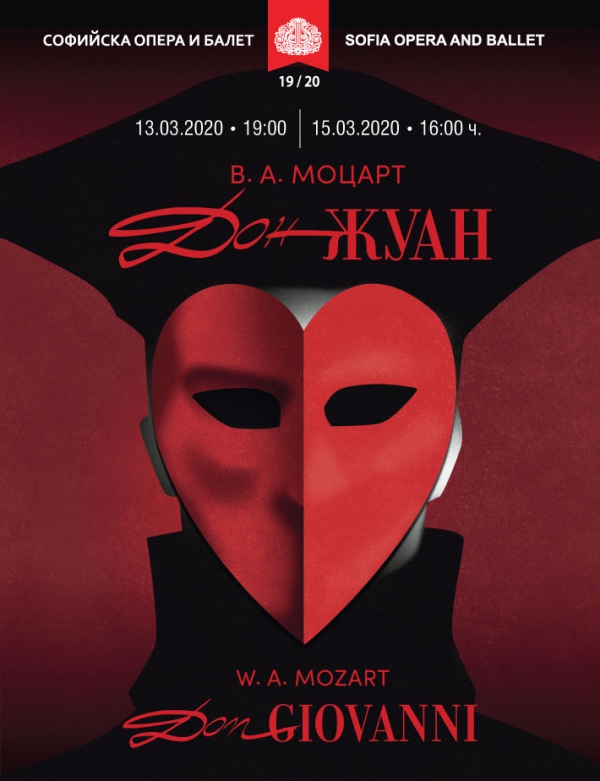 DON GIOVANNI – WOLFGANG AMADEUS MOZART – Characters and performers. Production team.
DON GIOVANNI: Vito Priante, Petar Naydenov DONNA ANNA: Radostina Nikolaeva, Tsvetana Bandalovska DON OTTAVIO: Daniel Ostretsov, Hrisimir Damyanov, Juan Francisco Gatell IL COMMENDATORE: Angel Hristov DONNA ELVIRA: Gabriela Georgieva, Leonora Ilieva, Lilia Kehayova LEPORELLO: Boyan Savov, Kostadin Mechkov, Petar Buchkov MASETTO: Valentin Vatev, Nikolay Voynov ZERLINA: Diana Vasileva, Jana Kostova, Ina Petrova, Silvia Teneva...
Read more...
On 18 April 2019 the Sofia Opera and Ballet invites its admirers to the sixth premiere for the season. The new title in the playbill is the opera "Don Giovanni" by Wolfgang Amadeus Mozart. Opera in two acts, defined by the composer as dramma giocoso – a synthesis between the dramatical and the tragical, in which the spectacle's stage director and set and costume designer Hugo de Ana promises to his audience to witness...
Read more...