BULGARIAN TOCCATA - Vasil Kazandjiev and Dimitar Nenov - Premiere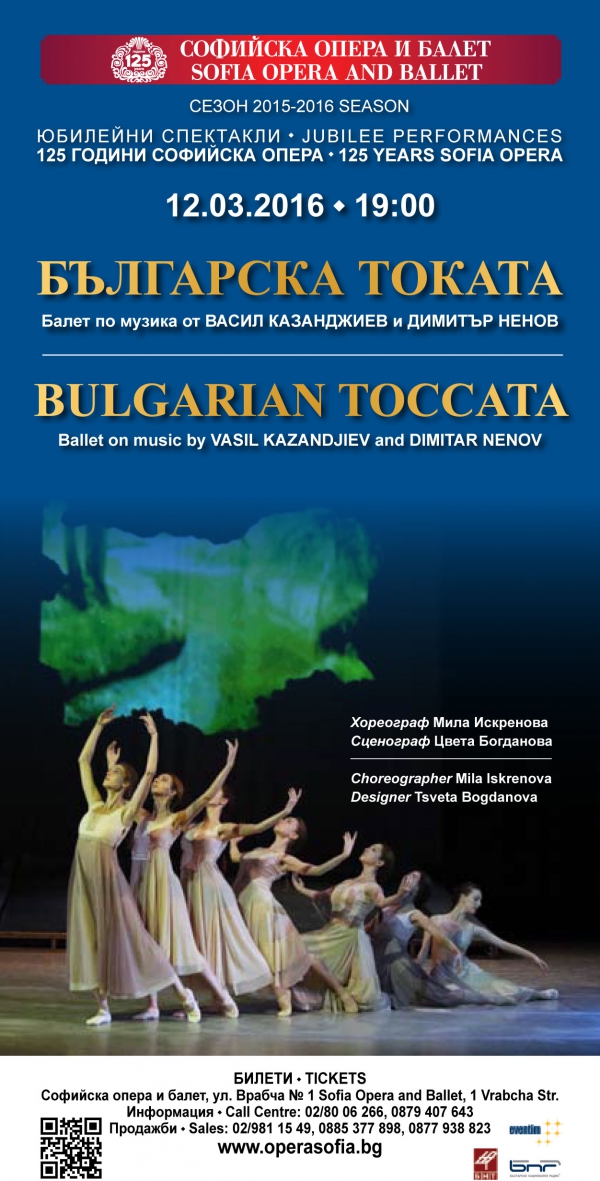 BULGARIAN TOCCATA
Spectacle after the music by Dimitar Nenov and Vasil Kazandziev
Conception and Choreography: Mila Iskrenova
Set and Costume Designer and Multimedia: Tsveta Bogdanova
Literature Consultant: Marin Bodakov
An inspiring dance, plastic and visual tale about Bulgaria, her beauty and spiritual dignity.
The separate parts interpret different aspects of the Bulgarian lifestyle, mythology, beliefs, customs and historical events.
The stage action interprets the music with the means of modern dance in original visual and plastic images, through which gets built a colourful and bright picture of the Bulgarian mentality.
The spectacle has two parts:
Part I: music Vasil Kazandziev
"Pictures from Bulgaria"
"Divertimento"
"Toccata"
Part II: music Dimitar Nenov
"Rhapsodic fantasy"
"Striving"
"Longing"
"Toccata"

Characters and performers:
The Mann: Nikola Hadzhitanev, Emil Yordanov, Tsetso Ivanov
The Woman: Marta Petkova, Darina Bedeva, Katerina Petrova
Girls: Anastasia Nedelcheva, Ana Vutsova, Adriana-Maria Manasieva, Boryana Petrova, Venera Hristova, Vihra Madzharova, Vyara Ivancheva, Dilyana Yaneva, Erina Nishitama, Eleonora Miteva, Elena Petrova, Irina Zheleva, Kristina Chochanova, Lyudmila Ilieva, Maria Nenova, Natali Bratanova, Pamela Pandova, Ralitsa Ilieva, Sofia Tsutsakova, Charlotte Bernard, Yana Marinova, /first and second cast/
Boys: Georgi Asparuhov, Georgi Banchev, Deyan Ivanov, Zahari Georgiev, Ivan Georgiev, Ivan Shopov, Nikola Arnaudov, Radul Roglev, Rumen Bonev, Svetlin Stoyanov, Teodor Vodenicharov, Todor Angelov /first and second cast/