Constantin Trinks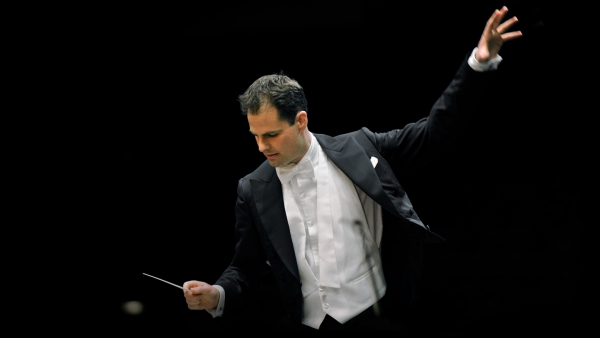 Constantin Trinks was born on 9 April 1975 in Karlsruhe, Germany.
The first musical experiences came with playing the piano and French horn. Also involved in different ensembles and choirs from an early age. In 1994, began to study conducting at the State Music Academy in Karlsruhe with Professor Wolf-Dieter Hauschild and piano with Professor Günter Reinhold. He graduated in 2000 with a first-class degree.
During his studies, Mr Trinks worked in 1996 as a repetiteur on Don Giovanni at the Aalto Theater Essen and at the Castle Festival in Zwingenberg in 1997. From 1997 to 2000, he was engaged at the Badisches Staatstheater in Karlsruhe as guest répétiteur and personal assistant to Maestro Kazushi Ono, working on numerous opera productions. It was here, in 1997, that he supervised choir rehearsals for Der junge Lord by Hans Werner Henze. Himself an enthusiastic tenor, Mr Trinks sang in the Kammerchor Stuttgart directed by Frieder Bernius from 1999 to 2001.
At the Schwetzingen Festival 1999 he assisted Thomas Hengelbrock – and Andreas Spering at the Händel Festival in Karlsruhe between 1998 and 2002. Mr Trinks also was an intern during Christian Thielemann's production of Tannhäuser at the Bayreuth Festival in 2002. He was a scholarship holder by the "Akademie Musiktheater heute" from 2003 to 2005.
From 2000 onwards, a fixed engagement as vocal coach and conductor at the Badisches Staatstheater, Karlsruhe. He conducted Le nozze di Figaro, Die Fledermaus, I puritani, Viva la mamma, L'inganno felice, Il campanello and Evita.
Mr Trinks was appointed second conductor at the Staatstheater Saarbrücken in 2002 and extended his repertoire considerably: Der fliegende Holländer, Arabella, The Cunning Little Vixen, II trovatore, Un ballo in maschera, Lucia di Lammermoor, Die Entführung aus dem Serail, Les contes d'Hoffmann, The Bartered Bride, The Merry Wives of Windsor, Orphée aux enfers and Les misérables.
During this period, he also conducted many ballet performances as well as conceived and directed young people's concerts – not to mention special concerts highlighting Mendelssohn's Second Symphony Lobgesang in 2003 and Schumann's Szenen aus Goethes Faust in 2004.
In his third season at the Staatstheater Saarbrücken, Mr Trinks presided over four new productions, one of which was the widely acclaimed premiere of Intolleranza 1960 in the Luigi Nono anniversary year of 2004. In 2005 appointed First "Kapellmeister" and Deputy Music Director. New productions of Don Carlo, La bohème and Don Giovanni; several performances of Elektra.
As Acting Music Director at the Saarlandisches Staatstheater Saarbriicken from 2006 to 2009, Mr Trinks conducted premieres of Das Rheingold, Lohengrin, Salome, Die Zauberflöte, Carmen, La traviata, Cavalleria rusticana, I pagliacci – and Kullervo by the Finnish composer Aulis Sallinen. The European premiere of the opera The First Emperor by Chinese composer Tan Dun met with great acclaim. He directed a youth dance project based on The Firebird in collaboration with choreographer Royston Maldoom.
Symphony concerts with the Saarlandisches Staatsorchester included works such as Anton Bruckner's Third and Seventh Symphony, Ein deutsches Requiem by Johannes Brahms, Concerto for Orchestra by Béla Bartók, Till Eulenspiegel by Richard Strauss and Peter Tchaikovsky's Fifth Symphony.
In October 2008, Mr Trinks made his debut at the Staatstheater Darmstadt with the premiere of Die Meistersinger von Nürnberg. Has been Chief Music Director there since the 2009/2010 season.
First productions Aida and Der Rosenkavalier, revivals of Parsifal and Hänsel und Gretel. And the world premiere of Carl Orff's early work Gisei – Das Opfer in tandem with the premiere of the later work De temporum fine comoedia – also appearing on DVD. Concerts included Gustav Mahler's Fifth, Beethoven's Seventh and Dmitri Shostakovich's Fifth Symphony.
Artistic collaboration with a series of other orchestras. Here a short overview ...
In 2004, Così fan tutte at the Stadttheater Klagenfurt. A Verdi Gala at Eberbach Abbey with the Frankfurter Sinfoniker. The successful Germany debut of the KBS Symphony Orchest­ra Seoul during an opera gala in Wiesbaden. In 2006, Don Giovanni at the Stadttheater Klagenfurt, Rigoletto at the Nationaltheater Mannheim and Lucia di Lammermoor at the Staatstheater Nürnberg.
Concerts with the hr-Sinfonieorchester, the Münchner Rundfunkorchester, the Stuttgarter Philharmoniker, the Württembergische Philharmonie Reutlingen, the Norddeutsche Philharmonie Rostock, the Tiroler Symphonie­orchester in Innsbruck, the Orchester des Pfalztheaters Kaiserslautern, the Philharmonie Baden-Baden, the Deutsche Radiophilharmonie Saarbriicken Kaiserslautern, the Vogtland Philharmonie and the Folkwang Kammer­orchester Essen.
Autumn 2007 saw a revival of Don Giovanni in a production by Peter Konwitschny at
the Komische Oper Berlin, also the opening concert of the "International Anton Rubinstein Festival 2007" at the St Petersburg Philharmonia.
Japan debut in December 2008 at the New National Theatre Tolryo: a new production of Don Giovanni with an international cast. He will return there in 2012 for La bohème and in 2013 for Tannhäuser. Previously conducted Gustav Mahler's Fifth Symphony with the Tokyo Philharmonic Orchestra in May 2010.
A successful debut at the Semperoper Dresden in March 2010 with Der Rosenkavalier. Further performances in late summer 2010. In the 2011/2012 season, Capriccio by Richard Strauss and Hänsel und Gretel – plus a new production of Schwanda the Bagpiper by Jaromír Weinberger.
Debut at the Opéra National de Paris towards the end of 2010, with a revival of The Bartered Bride.
Highly acclaimed debut at the Bayerische Staatsoper Munich during the Opernfestspiele 2011 with Der Rosenkavalier. Return to Munich with a series of performances of the same opera in 2011/12.
2011 at Staatstheater Darmstadt: new production of Wagner's Ring des Nibelungen.
2012 Le Nozze di Figaro at Oper Frankfurt.
2013 Tannhäuser at Opéra National du Rhin Strasbourg.
With Turandot debut at the Deutsche Oper Berlin in 2014.

http://www.constantintrinks.com/